Flyers Comment On Boeing's 'Plastic' Airplane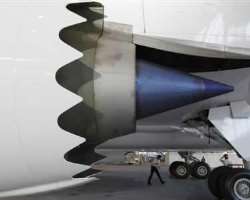 Boeing Co's (BA.N) first 787 Dreamliner touched down in Japan on Wednesday and will start commercial flights next month.
Reuters asked flyers around the world what they thought about the prospect of boarding the world's first "plastic" airplane.
For the most part, travellers were enthusiastic about riding the light-weight, carbon-composite 787, and sampling some of the added comforts it promises. Their comments are as follows:
TOKYO
"It's not plastic! It's the latest technology based on carbon fibre," said 77-year-old Yasuo Kaneko, who was waiting for a friend at a coffee shop at Tokyo's Haneda Airport, where All Nippon Airways' (9202.T) first Boeing (BA.N) 787 Dreamliner touched down on Wednesday.
"I think the 787 would actually be safer than an ordinary airplane, so I would love to try flying on it," he said.
NEW YORK
In the United States, Jack Goldberg, a 69-year-old attorney from New York, said he is confident the plane is safe.
"I have no problem flying on it. Some plastic is almost as hard as metal," said Goldberg, who flies six or seven times a year. "I'm sure they'll do enough test flights."
Composite materials comprise 50 percent of the Dreamliner, including the huge, single-piece fuselage barrel that will seat about 250 passengers and wings designed to hold thousands of gallons of jet fuel.
Traditional commercial planes feature far more aluminium. The use of composites and other technologies permits higher cabin humidity, bigger windows, better fuel efficiency and a quieter ride.
The plane has been through rigorous testing and is certified by the Federal Aviation Administration. After three years of production delays Boeing has an order backlog of 821 planes to deliver.
PARIS
"You have to have progress. I don't see anything wrong with that," said Aly Congo, a 56-year-old pastor from Burkina Faso, during an 18-hour layover in Paris for Singapore.
"Anyway plastic is everywhere, starting with cars," Congo said. "It's new but people will appreciate it because of utility and performance."
LONDON
Nevertheless, some would-be 787 travellers would just as soon stick with the tried-and-true aluminium airplanes.
"The word plastic doesn't fill me with hope," said Eileen Thomson, a 63-year-old grandmother in London.
"It doesn't sound secure to me, plastic," she said. "People have an idea of what plastic means in their minds: plastic bottles, carrier bags, cartons - you don't expect a plane to be made of plastic."
TOKYO
Noriko Ozawa, a 60-something Japanese grandmother, echoed that view.
"I am just not so sure of its safety since it is so new. Personally, I would wait to take it until the safety is fully assured," she said, on her way to meet her daughter at Haneda Airport.
CHICAGO
Ante Gelo, 38, a bartender in Chicago, felt the same way. But he said the use of carbon composites was not an automatic deal-breaker for him.
"When you think plastic, you think of something like a straw or a lid. You don't think of a plane," Gelo said. "But I am assuming you are not up there in some cheap plastic, it has to be something sturdy".
"Not knowing anything else about it, it doesn't really scare me," he said. "But I would need to know more about it rather than jumping in and saying yes it's fine or no it isn't."
REUTERS