Why Governors and Other Public Officers should be allowed to operate foreign Accounts----Ekiti Gov. Fayemi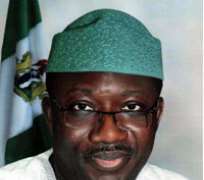 advertisement
THE Ekiti State Governor, Kayode Fayemi, on Wednesday curiously called for the abrogation of the law barring public office holders from operating foreign accounts, maintaining that it was no big deal.
Fayemi a chieftain of the Action Congress of Nigeria, who rode on the platform of probity shocked observers when he gave his reason thus "those who steal public funds don't use their own foreign accounts to perpetrate money laundering," adding that "they know how they do it and it is not by keeping properly traceable accounts."
Fayemi, according to a statement made available to newsmen in Ado-Ekiti, also said the National Assembly should "use the proposed constitution amendment exercise to abrogate the law which bars public office holders from operating foreign bank accounts."
The governor, in the statement signed by his Chief Press Secretary, Mr Olayinka Oyebode, described the trial of former Lagos State governor, Senator Bola Tinubu, at the Code of Conduct Tribunal as "judicial lynching, which is not unconnected with the subterranean moves ahead of the 2015 elections."
According to Fayemi, "public office holders concerned should be made to make full disclosure of their foreign accounts, rather than compelling them to close same," adding that "the law barring public office holders from operating foreign accounts is very unrealistic, false and primitive, which must be done away with."
The statement said Fayemi had lived in the United Kingdom for about 15 years before joining politics, adding that "he had to close down his foreign account since he became a public office holder in accordance with the Code of Conduct rule.
"No fewer than five ministers in the Federal Executive Council (FEC) were, until their appointment, living abroad. Are you then saying they should close their accounts? How do they maintain their mortgages? How do they take care of their families that are still abroad? I think this does not happen in any civilised state and I hope this is one of the laws that will be done away with in this constitution review process that we are embarking upon," he said.
Speaking on the trial of Tinubu, he said the Action Congress of Nigeria (ACN) was not opposed to any move to sanitise the country of corrupt practices, but the politically motivated trial of its national leader, Tinubu, was condemnable."
He added that "before this matter went to court, I said that this is judicial lynching and, again, our party believes that is not unconnected with the subterranean moves on the 2015 elections."