MISS TEENAGER NIGERIA AIMS HIGHER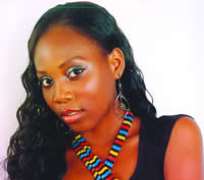 • Quenneth
First runner up of current Miss Teenager Universe, Nigeria, Tariah Quenneth who ought to be in a happy mood considering the hurdles she crossed to trail behind Miss Chiamaka who won the coveted crown, is wearing a sad look. Reason being that her ambition of contesting the overall Miss teenager Universe pageant on October 9, at Convention Centre, Grand Tikal Futura Hotel Guatemala may be dashed if succour does not come her way the soonest time possible before the D-day.
The pretty 18 year old who hails from Buguma local government area of Rivers State is asking for sponsors to assist in making her journey to the South American country possible. She said: ' The platform which I contested Miss Universe Teenager, Nigeria, do not have funds to sponsor my trip to Guatemala and I really want to represent Nigeria and make her proud because I know I would win. Miss Chiamaka who won Miss Universe Teenager Nigeria is in the United States contesting for Miss Teenager, World.
Asked why she contested for the pageant, Quenneth said:' I wanted to use as a platform to take a message across my fellow teenagers to enlighten and about teenage pregnancy and sexual harassment among teenagers. It is rampant in port Harcourt. Most of my fellow teenagers are pregnant. The excuse most of them give is that their parents do not have money to send them to school, so they feel they should get pregnant and start off a family. They don't see anything wrong with it. In Buguma, a young boy of 15 years old got a girl pregnant and their parents do not see anything wrong with it.
I also want to inspire teenagers to be more focused in their education and help them discover and explore their talents.'
Ably supported by her parents, the model awaiting admission to the University of Port Harcourt to study Linguistics and Communication studies and have modelled for Nokia, Kelechi Amadi became the first runner up of Miss Teenager Universe, Nigeria on July 23 by Robelo Productions headaed by Mrs. Robina Iyayi Ehana.
Voting is required from members of the public for Quenneth from now till October 9 at www.missteenageruniverse.com/VOTATEENAGER211.html.