P-SQUARE OFFERS DUET TO AMSTEL MALTA SHOWTIME CATEGORY WINNER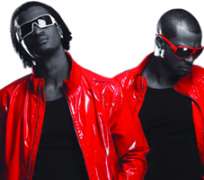 •P-Square
When Chinedu Okafor signed up to compete in the singing category of Amstel Malta Showtime activation held recently in Enugu, his aim was to emerge winner and claim the mouth-watering prizes up for grabs. By the end of the show, he got what he probably had not bargained for: an offer by P-Square to feature him on a 'remix' of one of their songs, off the Invasion album.
After emerging winner in the singing category of Amstel Malta Showtime in Enugu, he earned the privilege of performing on stage alongside P-Square. This was asides the N100,000 shopping voucher, brand new laptop and all-expenses-paid weekend trip to Lagos, which he won.
His flawless delivery of sublime rap lyrics over the band's popular 'Do Me' musical hit amazed the duo who immediately offered him the rare opportunity. P-Square, who were the night's star performers, also rocked the crowd, which gathered at the basketball court of the Nnamdi Azikiwe stadium in Enugu.
'Kini Big Deal' crooner, Naeto C was also a crowd pleaser as he dished out songs from his impressive repertoire. His entry, dressed as an old man clad in traditional igbo attire, drew applause from the crowd.
Earlier performers at the Amstel Malta Showtime event were ace comedian Gandoki and dance group, Dance Na the Main Thing whose deft dance steps also thrilled the audience. Asides the singing category, other genres in which students competed to showcase their best were comedy and dance.
Amana Monday emerged the best in the comedy category while Nonso Nwobu won in the dance category. Each of the winners also walked away with N100,000 shopping voucher, a brand new laptop and a weekend for two in Lagos. While Amana got the opportunity to crack jokes on stage alongside Gandoki, Nonso was also accorded the honour of dancing alongside Dance Na The Main Thing.
Amana said: 'I really cherished the opportunity of sharing the stage with Gandoki. I hope to take comedy to the next level. I want to make a career out of it. I want to also say that I love Amstel Malta for the opportunity of giving up-and-coming talents like us the chance to showcase our talents. I am really grateful', Amana added.
The next edition of Amstel Malta Showtime holds on October 26 in Nigeria's federal capital city of Abuja.
Amstel Malta Showtime is a sponsorship platform for Amstel Malta, Nigeria's premium, low-sugar, malt drink.