Mark Threatens To Retaliate Maltreatment Of Nigerian Emigrants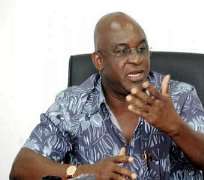 ABUJA, SEPTEMBER 29, (THEWILL) – President of the Nigerian Senate, David Mark on Thursday had harsh words for countries with proven record of treating Nigerians with contempt, indicating that the country would take 10 eyes for an eye. He also advocated a change in the country's foreign policy thrust. Senate President Mark was speaking at the inauguration of the Senate Committee on Foreign Affairs.
"We have a responsibility to protect Nigerians outside. It is not right to group all Nigerians together and brand them as criminals. There are many Nigerians doing legitimate businesses outside the country," he said. "Every Nigerian must be treated like the citizen of his or her country of residence. And if one Nigerian is maltreated in a country, then ten of their citizens should be maltreated in Nigeria," he threatened.
He also condemned poor funding of Nigerian Missions abroad, decrying situations where diplomatic cars break down on the road. "Foreign policy, like defence, is expensive; keeping foreign missions underfunded is an embarrassment," he said.
He urged the Committee to review bilateral and multilateral agreements in order to make necessary adjustments, saying, "The foreign policy should be reviewed in line with modern trend. We must work hard to secure the United Nation's Security Council seat because Nigeria is competing with other African countries and we must first beat them before moving on to compete with contending countries outside the continent."
In another instance, while speaking at the inauguration of the Senate Committee on the Federal Capital Territory, headed by Senator Smart Adeyemi, Mark advised the Committee and Minister of the Federal Capital territory, Senator Bala Mohammed, to retain the Abuja Master Plan.