Tambuwal Inaugurates 89 Committees, Promises Transparency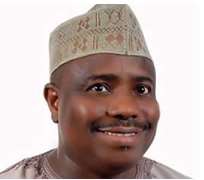 ABUJA, SEPTEMBER 39, (THEWILL) - Speaker of the Federal House of Representatives, Hon. Aminu Waziri Tambuwal has reiterated the resolve of the leadership of the lower chamber to exercise its functions with utmost transparency, as articulated in the House Legislative Agenda.
Thursday's inauguration of standing committees is the first to be done simultaneously in twelve years of uninterrupted democracy, a decision that was taken in line with legislative agenda to cut cost of governance in the country.
Tambuwal charged chairmen of the committees of the House to maintain commitment to the implementation of the agenda of directing the policies, programmes and legislative actions for the good of the people, who truly deserve quality representation necessary to improve their standard of living.
"In the past, the oversight activities of the House have faced the challenge of effectiveness. We expect this will change," he said. "Our oversight of the Executive and its ministries, departments and agencies, must be pursued with the overall goal of eliminating waste, plugging loopholes and ensuring value for money, within a time frame, as defined in the budget."
He promised that the operations and activities of committees would be held to the standards of efficiency, transparency and accountability already defined to guide the House. The leadership of the House, he assured, had resolved to strengthen the committee system to enable it deliver on efficiency and legislative desirables; and equip them for optimal functionality.
He disclosed that the House had resolved to exclude committee chairmen from the Appropriations Committee, so that they could devote enough time to scrutinise the budget of their various committees and ensure compliance with House concerns on appropriate supervision of budgetary proposals of the Executive.
Tambuwal further said that the committees would work and create partnerships with Civil Society Organisations CSOs, professional groups, media, citizens and other stakeholders, to enhance the quality and effectiveness of oversight activities. They would also present quarterly reports of their oversight activities to the House, as well as create public access to their work by conducting adequately publicised hearings involving stakeholders.