Boko Haram Receives Foreign Sponsorship, Says COAS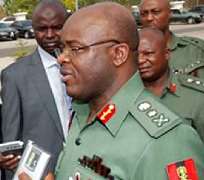 ABUJA, SEPTEMBER 28, (THEWILL) – Recent attacks by the Boko Haram Islamic terrorist group could not have been executed in their typical deadliness and sophistication without sponsorship from foreign interests, the Chief of Army Staff, General Anthony Ihejirika said on Tuesday. He was speaking at the opening of the 2011 Chief of Army Staff Conference in Abuja.
Gen. Ihejirika said the sophistication of the sect's weapons, advancement of its communication equipment, and its expertise in preparing improvised explosive devices are clear indications of sponsorship from foreign interests.
"Involvement of foreigners in Boko Haram's terrorist activities in Nigeria is certain. It is definite that the group receives training and possibly funding from some foreign elements," he said. "This is evident from the type of weapons we have captured from them, from the type of communication equipment we have captured from them, and from the expertise they have displayed in the preparation of improvised explosive devices. These are pointers to the fact that there is foreign involvement in the terrorism going on in Nigeria."
But he assured participants at the conference that the Army was appraising its operational training and attuning itself to current security challenges confronting the nation. "This quarter has been particularly challenging, in view of the numerous security challenges across the country, the most recent being the UN House bombing by the terrorists here in Abuja," he observed. "We have been told to appraise our performance training and administration; and in tackling the operational challenges, the Nigerian Army has been involved in both internally and externally. I want to emphasise that we have to be very frank and do a serious critique of our performances so that we can come out with a solution that will aid our performances in future undertakings."
He acknowledged high expectations of the public from the security agencies as well as allegations of indiscipline against some members of the Armed Forces, and promised to tackle it with seriousness, but admitted that indiscipline is a societal problem not peculiar to the Army.
His words, "The issue of indiscipline affecting soldiers is societal, but what I want to assure every Nigerian is that all acts of indiscipline on the part of soldiers and officers would be dealt with immediately, whether at the court-martial or unit level. I have brought commanders to the field so that we will drum it right into their ears so that they too can interact with us and we will know how to nip the problem in the bud once and for all.
"What I want to say is that the Army will meet the expectations of Nigerians and that we are ever prepared to carry out any task assigned to us. The issue of the country's security is a collective thing running from government at various levels, well-meaning citizens and all the security agencies. What I want to assure you is that the Army will cooperate and collaborate with others to improve on our present performance."