IMO: THE STORY OF UDENWA, OHAKIM AND OKOROCHA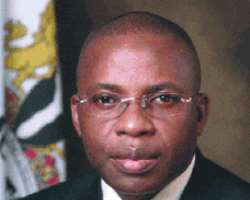 A chieftain of the Peoples Democratic Party (PDP) in Imo State, Dr. Godwin Dibe, has said only a Senator Hope Uzodinma candidacy would have defeated the All Progressive Grand Alliance (APGA) candidate, Owelle Rochas Okorocha, in the 2011 governorship election.
Dibe told Daily Sun in Lagos that Senator Uzodinma was very popular in the grassroots, adding that the winner of the 2011 election in Imo was decided by the grassroots.
He spoke with ZIKA BOBBY on the intrigues during the Achike Udenwa era as Imo governor for eight years, adding that Okorocha only won because there was no popular contender to challenge him.
Excerpts:
'Before the formation of the Orlu People's Assembly (OPA), we had the Orlu Senatorial Consultative Assembly (OSCA) formed in 1993 in Lagos. This was formed only for Orlu sons and daughters, living in Lagos. At that time, Eze Cletus Ilomuanya was the president; I was the first vice president while Hope Uzodinma was the second vice president. We constituted a board of trustees and in that board we had Cosmos Madugba, Eze Ilomuanya and Senator Uzodinma. We formed the association and we realised the objective in 1999.
That objective was to make sure that one of our own became the next governor of the state. Some forces were opposed to Achike Udenwa, becoming governor but when the PDP presented him as the party's flag bearer, our group supported him because he was one of our own.
Although Udenwa came fourth in the PDP primaries, he was, however, favoured by the party. Rochas Okorocha actually won that primary. When Udenwa became governor, at a point in 2001, OSCA could no longer have influence on him. He began to oppose the group. All efforts by the group to meet with him met a brick wall. So, in the same year, we reassembled. I convened a meeting in my house in Lagos and those in attendance, apart from those of us that formed OSCA, were Charles Ahize and Bright Ugwoegbu.
We deliberated and wondered why our brother, the governor, should abandon us, having worked for him. After several meetings, we decided to change OSCA to Orlu People's Assembly (OPA). OPA had a sterling committee headed by Senator Hope Uzodinma and C.M.C Onuoha as secretary. In 2002 we decided to take the meeting to Uzodinma's country home, Omuma in Imo.
Udenwa later formed a parallel OPA, headed by Fidel Anujuo, and they held their meeting at his house in Isiekenesi, in Ideato South. At the 2002 Orlu indigenes convention held in Chicago, USA, which I attended, OPA had to publicly react because its leadership was being verbally attacked. It was at that convention that the people found out who was telling the truth. During Udenwa's first term in office, he never brought development to Orlu. It was at this point that we agreed we were not going to support his second term bid. In his first term, he never had any road map for development.
OPA had to compel Uzodinma to come out and vie for governor of Imo State in the 2003 election. We saw him as one of the very few generally acceptable by the people. Tony Chukwu became the leader of OPA in Okigwe zone. It was at this period that we formed the Imo People's Assembly (IPA). Anayo Nwadike and Prof. Cathrine Acholonu supported the motion that Uzodinma should contest for governor on any platform. We eventually got the ticket on the platform of the Alliance for Democracy (AD). When we were searching for a deputy for Uzodinma, Godwin Ibekwe and myself met the late Eze Zeb Philip and decided to meet with Ikedi Ohakim, who later became Uzodinma's running mate. The Uzodinma/Ohakim ticket would have won that election but we all knew that the election was massively rigged and the people's voice was not heard.
After the election, we all went back to the PDP. Udenwa's second term in office was better than his first because he began to listen to the people. At the end, we were reconciled. We all knew what happened in 2007 and 2011 elections. In 2011, it became so obvious that the people now wanted to be involved in shaping their destiny. The people's vote brought in Uzodinma as Senator. If he had contested as governor on any platform, he would have won convincingly.
Working together
'There is need for all elected officials to work together and put aside all political differences if the state is to move forward. Uzodinma has said it times without number that he is ready to work with anyone, who is ready to move the state forward. I think that is a good development. Thank God that with the present arrangement in Imo, zoning is now a forgone issue.
The meeting we held at Chief Arthur Nzeribe's house in August 2011 was not targeted at anyone but rather to see how the problem of erosion, unemployment, etc., could be tackled. At least, we now know that after that meeting, there were plans to see how erosion can be tackled in the state.