'I'm a multi-talent, so, Charly Boy couldn't have resisted me'…­ex-Secretary, Helen Sosu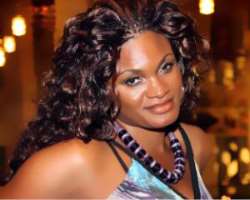 Founder and Initiator of The Street University Project, Ms Helen Sosu, played host to Nollywoodgists.com, recently and she opened up on sundry issues which include her project, life and current relationship with Charles Oputa, her ex-boss. Excerpt.
What are things that of greater benefits about your latest project, The Street University?
Already, we are set to launch the newest addition to The Street University Project family, which is our TV programme titled The Street University Project by the end of the year. This programme is designed to reach out to more youths through the visual media, and this will help a lot of youths from other states that have not been able to attend any of our workshops or skills training programmes in Lagos and Abuja to learn a lot from watching our programme.
Did you envisage coming this far in the show business, and would you have been doing other things other than what you are busy with presently?
My life has always been around show business, even as a child, my mum would dress us up after school every Thursday and take us to NTA for the 'Animal Games' programme with 'Uncle Wole'. During the holidays, we went every Wednesday to NTA to participate in 'MYSTERY GUEST' programme. I enjoyed every part of it. I joined the choir at a very young age, and was very active. I was in the dance and drama club in primary school, recited poetry and even carried this on to both secondary school, after which I started modeling, and eventually went into the movie industry as a cast on 'Bottle Neck' in the 90s. From there, I played a few lead roles, acted in soap operas and TV shows.
Tell us about your childhood experience and what motivated your future dreams?
Growing up for me was a lot of fun. Ajegunle was and still is a fun place any day. It's all a large family affair. We all look out for one another. In my family, my mum set a strong example on how to face life. She never gave up on her dreams and ensured we understood the importance of never giving up. Today, we have moved on to other places than Ajegunle, but we always touch base, never forgetting where we came from.
Helen Sosu has been around for a while but not much has been said about her love life; would you like to say something on that?
I have always lived a private lifestyle, and now that I'm single, I prefer to keep my private life, private.
It was once speculated that you were Charly Boy's girlfriend but you have consistently denied that; any other thing to add?
I think that speculation is well worn out, and should be buried. Wonder where that even originated from in the first place.
What attracted you to Charly Boy when you agreed to write his first biography?
I think the question should actually be 'what attracted him to me.' I was a very young and energetic young girl, he noticed my passion for writing, and asked that I put his book together. For me, it was a challenge I must overcome, and I did.
When many heard of The Street University project being championed by an ex-Charly Boy aide, they tend to believe that the idea was taken from Charly; is there truly any connection?
By the grace of God, THE STREET UNIVERSITY PROJECT is purely my idea, with the help of my team members. If someone somewhere is trying to be mischievous, I think they are only setting themselves up to become a huge laughing stock, which will be very hilarious of course. We have worked too hard to build this vision and will certainly not allow any unscrupulous element confuse people.
Why did you have to leave Charly Boy's camp when you did?
It was time to move on. I had helped him build his vision and decided it was time to settle down and build mine which is The Street University Project.
Tell us about your family and education background
My family is a large one. (Laughs). I have seven siblings which make us eight children. I'm the 5th on the list. My father is a marine engineer, who was also in the Navy, where he was trained in Canada. My mother is a Police Officer with the LondonMetropolitan Police, UK. I also owe a lot to my step-father, for instilling a high level of discipline in me, which I still operate in today.
What is your ideal man?
A man who has true values, loves selflessly, who is always a supporter of truth and a huge inspiration.
How do you unwind?
I sing. I spend time with loved ones and hang out in fun places.
Would you like to marry from the showbiz industry?
Well, I would like to settle down with a man who shares my passion and vice versa; doesn't matter what industry he's in. As long as we work together, that's fine by me.
What was the craziest thing you'd ever done?
Throwing all caution aside, and plunging fully into building The Street University Project. I've always been a very cautious person, so going into something like this project, which involves constant regenerating of ideas to help uplift more young lives is and continues to be a thrilling and rewarding experience.
How long have you developed the idea of The Street University, and with whom?
The Street University Project idea started in 2007 after the release of my book of poems titled 'The Street University'. Although one of my poems in the book was also titled 'Street University', which I wrote in 2002. After many people read my book, they came back to tell me how the book motivated and challenged them to do something positive with their lives. I went back to Ajegunle, where I grew up, and after seeing how the youths there needed reorientation and motivation, I felt it was necessary to do something. Especially since I'm from such neighbourhood, I know how the youths think and how they feel. So I decided to do a workshop as a follow up to my book, but a very good friend of mine, Kachi Onuboga told me after I told him about the planned workshop that I had more than a workshop, that I was sitting on a project, because on The Street University platform, we can do all the things that I do: Literary works, workshops, TV programme, Magazine, Talents building in skills acquisition and more. It got me very excited. I called on some very close friends of mine-Julius Oyekanmi, Tomson Tabi, Osas Oronsaye, as well as my family members and explained the ideas to them, they loved it! We have had over 2000 participants in our workshops and have trained over 270 youths in our skills acquisition programme.
© 2011 Nollywoodgists.com. All rights reserved. This material may not be published, broadcast, rewritten or redistributed without the express written consent of the publisher