Nigeria… Just A Laughing Matter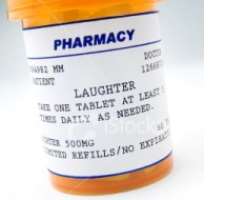 By Prince Charles Dickson
These days I tend to listen more to professional comedians, they make me laugh and reflect on the shame we have become as a nation.
When I listen to them I ask whether those we refer to as leaders really know what they are up against or it's just us the followers that are lost on reality.
On one of my voyage some weeks ago…I had a flat driving to the airport, as we fixed it, me and my driver. I could not help watch as a man certainly in his sixties exerted himself dancing to one of these budding Nigerian artiste. Out of curiosity, the Journalist and writer in me got the better as I strained my ear to hear the song that was making him dance so hard and with all the smiles.
The song...Omo na mental case, start to dey craze...kolomental…and boy, the smile on his face. It hit me, how bad it had become, the old lyrics was gone, Dan maraya Jos, Ebenezer Obey, Celestine, Victor Olaiya, and the rest. Now we dance to all sorts just to give laughter to the soul.
You know as an individual I guess I am alive because of the level of laughter I have been able to personally generate for myself in this insanity called Nigeria.
Laughter is an audible expression or appearance of happiness, or an inward f eeling of joy (laughing on the inside). It may ensue (as a physiological reaction) from jokes, tickling, and other stimuli.
Each day our leaders here in Nigeria ensure that we laugh with tears as a result of the expensive jokes they dish out due to their recalcitrant behavior.
Inhaling nitrous oxide can also induce laughter; other drugs, such as cannabis, can also induce episodes of strong laughter. Strong laughter can sometimes bring an onset of tears or even moderate muscular pain.
The last phrase of that 'short' definition is true about Nigeria…but for emphasis it's not strong laughter, in our case its painful laughter.
Scientifically speaking, Laughter is caused by the epiglottis constricting the larynx, causing respiratory upset. The study of humor and laughter, and its psychological and physiological effects on the human body is called gelotology.
The study of Nigeria, its politics and peoples is also one that can be referred to as gelotology.
6 years old laugh an average of 300 times a day while adults laugh 15times to 100 times a day. Nigerian politicians never stop laugh as the steal is dry and misrule us. We have cried so hard we may as well start laughing.
We will not revolt…either through violence, or even an intellectual revolution or a purge of some sort. So let's laugh…President Musa Umaru Yar'Adua has told critics of his government that he will have the last laugh as the execution of his agenda will vindicate him.
If you're a politically observant Nigerian, the statement attributed to Yar'Adua that he'll.... "Shame critics of his seven-point- agenda" will make you angry. But truth is it is a laughing matter.
How for God sake can a federal minister who's ministry and entire sector is in serious crisis (education for that matter) think of celebrating his marriage or birthday if at all we are a serious country. He is doing so because we are a laughing matter.
ASUU, SSANIP, ASUP etc are all on strike, our students are on the street due to the strike, the whole education system is collapsing while the minister is celebrating individual successes and achievements.
At the same function where we were told that Mr. President would have the last laugh, we were given another laugh by the Minister for Foreign Affairs who said that Obama would soon come to Nigeria.
I am trying hard not to laugh, as last week, a N500 billion Comprehensive Industrial Revival Fund was being packaged by the government to tackle the numerous problems facing operators in the real sector. Some sharp bad guys up there want to steal again.
At a public hearing convened by the Senate Committee on Industries on the "Collapse of the Nigerian Textile Industries" in Abuja same week, Minister of Commerce and Industry, Chief Achike Udenwa, said besides the N500 billion strategic fund, another N100 billion was being sourced by the government to revamp the distressed textiles' industry.
Do you want to laugh, and then continue by asking what happened to the first billions that was generated during Obasanjo's tenure.
Before you go far hear the Minister's explanation…Udenwa said the N70 billion intervention fund sourced by the last administration to address the problems in the industry was not realized before its terminal date.
The out-going or put comically the Stock exchange D-G that we are pursuing away, stated that our stock market crash was as a result of access to CNN and internet.
Hear her…the crash was essential due to the exposure of many Nigerian investors to international news channels and the Internet.
She explained that Nigerians, who had access to the Internet and watched the effects of the global financial meltdown in the developed economies via those news channels she listed, panicked and subsequently dumped their shares.
Abeg like we say in local parlance I cant fit laugh.
The country's external debt is now $3.6 billion, according to the Minister of Finance, Dr. Mansur Muhtar. The minister, speaking at the signing ceremony of $100 million Credit Additional Financing for the Malaria Control Booster Project an d $95 million credit for Lagos Eko Secondary School Educational Project Agreement in
He said "At the moment, we have $2.31 billion and with the signing of this agreement, this increases it by $195 million. The total external debt portfolio that we have recorded is $3.6 billion."
Muhtar said the $100 million additional financing of the Federal Government's Malaria Control Booster Project was to enable the country to meet the global Universal Scaling Up for Impact (SUFI) and significantly reduce malaria related morbidity and mobility. Mosquitoes and malaria indeed!I I am
The rift between the Presidency and the House of Representatives over the 2009 Appropriation Act assumed a new dimension last week as lawmakers in the green chamber of the National Assembly shunned an invitation extended to them from the Presidency to discuss the implementation of the troubled budget.
The House has, however, restrained itself from making good its threat to commence the impeachment proceedings against President Umaru Musa Yar'Adua.
House spokesman, Hon. Eseme Eyiboh, disclosed yesterday that the House was bidding its time to allow for some constructive engagements and would only deploy the impeachment instrument as a "last resort".
What more is laughable…we are nearing the end of July and we are dancing a dance of shame…Is this not a laughing matter.
Rather than face the issue the thieving, no I meant the ruling party The Peoples Democratic Party (PDP) had fingered the All Nigeria Peoples Party (ANPP) and Action Congress (AC) as being behind the threat by the House to impeach the President – with the National Publicity Secretary of PDP, Prof. Ahmed Alkali, describing the plot as a "mere speculation and a huge joke by AC and ANPP whose members have refused to rise above their partisanship nature".
Let us laugh oooo! And pray that the Almighty Allah helps us the reality of our grim circumstance of existence…