D'banj, Don Jazzy Shun Mr Solek's Birthday Bash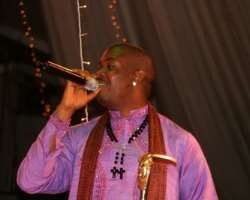 D'banj, Don Jazzy and other members of the Mo'Hits crew shunned Mr. Solek's birthday bash last weekend after they all got invitations.
Klieglights was told by those who should know that Mr. Solek, who was one of Don Jazzy's benefactor while he was in the UK, was not too happy with the absence of the self-made millionaires but had taken it in his stride and returned to his UK base.
Mr. Solek, it was learned, had personally sent the invitation and called Don Jazzy and D'banj, who used to be close to him when they were in the UK, to honour him at the event, but was disappointed when he couldn't see them at the party.
When he called the Mo'Hits stars, they apologised, saying they were far away in Abuja, though it is believed that they were in the Victoria Island axis on the said day. The birthday bash, which took place at the Biola Adegoke-owned Da Nu Grotto Nightclub on Etim Inyang Street, Victoria Island had several music acts in attendance. ID Cabasa, 9ice and Artquake were among those present at the party, which lasted several hours.