OUR MISTAKES ON OBASANJO, ADEDIBU-LADOJA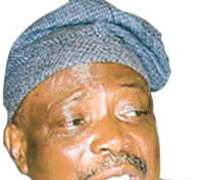 •Ladoja
Former Governor of Oyo State, Senator Rasidi Ladoja, has had his fair share of politics and its intricacies in Nigeria. Since his election as senator in the aborted Third Republic, he has been operating silently as a political reformist until his controversial impeachment in 2006.
In this interview to commemorate his 67th birthday, the shipping magnate and international businessman lamented that Nigeria has not been lucky with its leadership.
According to him, the situation has led to the nation's under-development after 50 years of independence from its colonial masters.
He was, however, particular about the former President, Chief Olusegun Obasanjo, whom he accused of missing the golden opportunity of charting an enduring course for the country in his eight years as civilian president. AKEEB ALARAPE was at the media parley, which held at his Bodija, Ibadan residence.
What led you into politics?
All of us are armchair analysts at one time or the other. We criticize government for not doing this or that, but most of the time, people don't know actually the problem that government has. My incursion into politics was accidental. I was happy doing whatever I could to the society and I was providing employment for the people.
But in the 1991 Republic, when the Social Democratic Party (SDP) and National Republican Convention (NRC) were formed, two gentlemen came to see me - Dr Busari Adebisi and Dr. Omololu Olunloyo to ask whether I was interested in politics and I told them no, over my dead body. I will rather be in business. They told me that I would touch more lives in politics but I told them that I was not interested. But at that time, some of us in Lagos decided that we could not be in Lagos and be successful without knowing what was going on at home. Who were the people contesting? They gave us the names -Lam Adesina, Yekini Adeojo, Haruna Elewi, one Chief Idowu, Kolapo Ishola, Prof. Wande Abimbola
Because of the knowledge that we had of Abimbola, we believed that he was the best governor that we could have at that time. Some of us sent for him and asked whether there is anything we can do to assist him. Particularly due to the link as the 'Awise', I said, 'look if it was your Ifa that made you to hold University of Ife (Obafemi Awolowo University) and it grew so rapidly, why don't you come and use the same thing so that Oyo State could grow'. We were contributing our modest support for him when I came to Ibadan. At that time I used to go to Dr Dejo Raimi's office. We were talking and he said 'Rasidi, I want you to support Kolapo Ishola'. I said 'who is he?' I was an Ibadan man but I was not living in Ibadan. He said you will like him and I said has he gotten another profession apart from politics? He said yes, he is a land surveyor and now the chairman of Akinyele Local Government but mind you, he is not taking a salary.
I said that is good. Then he phoned and within minutes, Chief Ishola was there. We extended pleasantries and Raimi now said this is Ishola, who is contesting governorship on the platform of SDP. I want you to support him. I said no problem and I asked, what can we do to assist you? The day he met me, he was looking at me and thinking, this man that is wearing 'Ankara dansiki', where is he going to get money for me. He enumerated what we could do and we agreed. We met our obligation to him without jeopardizing the commitment we made to Wande Abimbola.
At a point, they asked me to come into politics. One day, I bought a new car and I wanted to come and show them. Before, we would be at Dejo Raimi's clinic drinking and eating Suya and Akara. But as soon as he became governor, he was no more able to do so. I came to them at Government House and said, you people have become prisoners. I just came to greet you and tell you that I have just bought a new car. They said let's go outside and look at it. I was at the steering, Ishola was sitting by me and Raimi was at the back. I smuggled the governor out. The security men nearly killed me because they asked how could I have smuggled the governor out without the ADC and his security.
As soon as we left the governor's house, there was total blackout. We drove through Bodija. At Sabo, we noticed that the Suya sellers had light, we then drove through Iyaganku, some areas had light and at Onireke, some had, some did not.
By the time we got to Foko Bridge, it was dark; the same for Oja Oba and Oranmiyan. At that time, I told the governor that 'you see now that Ibadan has got the haves and the have not. I said these people don't have water, they don't have light. Governor Ishola now explained to me that the condition under which they took the loan for water forbade giving free water and that was why the public water pipes were disconnected.
I remember that I was paying for about five water pipes in Isale Osi then. I said if you don't give free water, you would give free cholera or typhoid. I said, in any case, if they want to collect the money, why don't they count the pipes there, put a price on it and let the local government pay. The local government will know how to collect the money.
So, he said we have got the solution. He called somebody and said as from tomorrow, start reconnecting the water. I want to meet all the local government chairmen. He said and we have been begging you to join politics and go to the Senate. After all, it is not going to jeopardize your business. And that was how I agreed. That was how I became a politician. Immediately he called Baba Adedibu. Baba did not know me. It was after the election that they told Adedibu that 'look most of our financial assistance came from this boy'. The following day, I met Baba Adedibu and he said the only thing you need to do is to sign the form for us and then go. Leaders of SDP, including Lam Adesina, were very supportive, except for the fact that they accused me of defeating them in the governorship election as a result of the support I gave to Ishola in the 1991 election.
As a founding member of the PDP and an international businessman, are you satisfied with the level of performance of the party in the last 12 years?
We cannot divorce our problem from Obasanjo. We made a big mistake putting him forward as civilian president in 1998. People were thinking of how to curtail soldiers in their barracks and he had a very good opportunity. In fact, the stake was very high but he squandered the opportunity. He was at various times Minister of Foreign Affairs, Minister of International Affairs; he spent most of his time in the air. That is the first thing.
Secondly, he was more preoccupied settling scores with people rather than face the job of governance. He had good opportunity but wasted them to the extent that I cannot even simply say that his government was a successful government.
When you ask for his achievement, his people would say GSM but anybody can do that. Even government made the GSM services more expensive. They asked the operators to pay N300 million for licence. The road from Ibadan to Ilorin, which is about 120 kilometres cannot be completed since 2002. So, how can I be proud to say that PDP is a successful party?
We were the ones who put Obasanjo there. And after he completed his tenure, he saddled us with late Umaru Yar'Adua. You see, the work of governance, even an ordinary governor of a state, is so challenging that a very stable and healthy person will find it difficult to cope not to talk of somebody who is sick.
So, we have not been lucky. We have not been lucky because if Obasanjo had only considered himself lucky for coming out of prison and going straight into the State House, he would have dedicated all his life to services and not personal aggrandizement.
Maybe, he would have been a better president. But this time around, he wanted to be the President of Africa. Of course, I don't grudge him for being regarded as the richest Blackman in the world. I don't envy him at all. But when it comes to Nigeria, he has not been a successful leader because he knows what our problems are.
Solve the problem of light first and many other things will follow. What other people take for granted is what is important to us. Go to Benin Republic, they take road for granted; they take water for granted but those are the things that pre-occupy our minds here. When then do we now have to start doing things that are important? So, we made that mistake of putting Obasanjo up.
Judging from the way you talk, you seem to have the same mindset with Babangida who, out of frustration described Obasanjo as a let down and he (Obaanjo) replied that he is a fool.
Unfortunately, I didn't know much about what led to that as I was in Umrah at that time. I came back and met people commenting on it. So, I was not around when the incident happened.
The two called themselves fools, but to you, which of them would you consider a leader in the real sense of it?
Both of them are military, so, I don't know whether that may condition their thinking. Again, with Obasanjo you know where you are but with Babangida, you don't know where you are. I will still prefer a modified Obasanjo to a Babangida.
How do you feel at 67?
Life at 67 is what you make it to be because apart from the responsibilities that I have acquired along the line, which are mounting on daily basis, I don't see any difference from when I was 50.
At what age did you become free financially?
The year I started working I became free financially.
When did you become a millionaire?
Before 40.
What is the secret of success to you?
You work hard, you pray to God and have faith in what you are doing, believe in what you are doing and leave the rest to God. I always tell God that when opportunities are passing, he should give me the ability to be able to identify and hold it. That has always been my prayer.
You are vast in business and politics. Where will you say you are most successful?
That is difficult because the definition of success in business is different from definition of success in politics. Definition of success in business depends on how much money you make; how many people you employed and services you rendered to the people. But in politics, it is different. It depends on how many lives you touched, how many people are happy that you have been able to serve them; how many that are happy that they have a governor that they can call father and how many people you have been able to touch. However, by and large, I can say that I succeeded in both areas. Success is limitless but when you talk of satisfaction, I am satisfied with my contributions at both ends.
What informed your crisis with late Chief Adedibu?
I did not have crisis with Chief Adedibu. He was a person who had a freedom to say whatever he wanted to say. I think that is within the law. The mistake that most people make is that people can help you to secure a job but they cannot do the work for you. When you are coming into government, it is either you come with a programme or you come blank. I came into politics in 1992 as I told you. I became a Senator. In 1993, we were asked to go home. In 1994, NADECO started and I joined. Nigeria was to become too difficult, so I went on exile. But my exile was the grace of God because at that time, I just started an office in London, so I relocated. Bola Tinubu was there, Bolaji Akinyemi and others were there. And politics continued from there.
Can we describe the period that you had problem with former President Olusegun Obasanjo as the most challenging period in your life?
No. If you believe that God will do whatever He wants, you will not have emotional breakdown. My doctor would come in the morning trembling that my blood pressure would go up but by the time he checks, he will record 110/70. When I nearly threw in the towel was when I lost my aides. That was the most challenging in my political career. We were coming and a tanker ran into their vehicle. I was visibly shaken. After December, I wrote the President that Adedibu led thugs to invade the secretariat. I said that the vehicle they brought had the president's posters on it.
The PDP just won former Governor of Ekiti State back to its fold and there is rumour that you are the next person to be wooed into the party. Will you abandon Accord Party and join the PDP?
My politics is politics of development. Anything that borders on the interest of the people, I will do. Look at Oyo State, we fought very hard but when the elections were over, the governor appealed to me for support and I agreed even though he is finding it difficult to fulfil his promise but in the end, he will fulfil it.
He is going to succeed. He may have difficulties but he is going to surmount them. At least, he has four years. This is just four months. People ask about my view; anything that is good for Oyo State is what I stand for. We have been able to prove that it is the people that make party, not party making people. Party is just a means.
So, should we expect you back in PDP?
No, no, no. I have not said that. What I am saying is that we are open to discussions but anything that is going to happen must start with fairness. The PDP was not fair to Oyo State. First of all, let the party understand that one.
We are not in national politics for joke. We are there for Oyo State's interests. So, that is our position for now. We are open to discussion. There is nothing that is rigid in this life and as long as it is in the best interest of Oyo State and the Nigerian people, I will do anything that I consider is good for them. Whether we are going to PDP or not is not yet on the table.
How do you feel about the fact that most of the agreements that you reached with the incumbent governor of the state have not been fulfilled?
I think that is the governor's problem. It is no longer my problem and I know that he is still having serious challenges about it because I know he would like to fulfil the agreement. That is why I said that he may be having difficulties; he may be having challenges but he will sail through them.
Some people described the new governor of Oyo State as too slow. Don't you think the people are impatient or too early to assess the governor or you believe the governor has been hijacked by a power clique within the state?
It is too early to assess him. When you assume a new position, you first of all have to take stock. The governor was busy taking stock. And when you are making campaign and you have not been there before, you assume that it is very easy and start saying I will do this and this and this. But when you now face the reality, you will find that it is not easy.
So, I only hope that he will not be a government of compromise because he got so many zones of support during the election and, in many cases, those zones may ask for compensation for the support they gave him. On this issue also, he will have to thread very softly to the extent that the governor has so many information than many of his advisers.
We cannot say he is slow because he has four years to go. I don't really subscribe to people assessing elected public office holders on the basis of 100 days.
Unless you have been part of that government or have spies in the previous administration, as a fresher, you will first of all get briefed by the people that are there and consider the fact that those that were there before would be interested in creating booby trap for the incoming government. He had his booby traps like the new salary structure.
Only that he needs to know that he is the one that people voted for and the people are expecting him to deliver irrespective of his zones of support. He should put the people first in everything he is doing and he should remember that too many compromises would destroy his government.