Celebrities reach out to Shirley, wife of Shan George's lover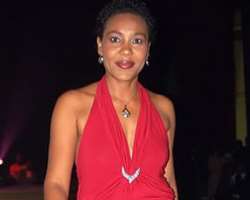 It is no news that star actress Shan George has found love again in the arms of a 29-year old-son of a retired police commissioner, Armani, a part time Botany student of the University of Benin where one of Shan's sons is also an undergraduate. Na wa for this kind of love o. This is no gossip because the lovers have thrown caution to the winds as they now kiss and smooch in public. The actress, a mother of two grown up boys has given Akin Jaiyeola a.k.a Armani, 29, an overdose of love so much that the dark complexioned dude has thrown his wife, Shirley and his three months old baby out of his MKO Abiola Gardens Ikeja residence.
Well the relationship is no news because it is not the first time a younger person is falling head over heels in love with Shan. Her previous lover before Armani came into her life saw and conquered. When 'Chi' (God) rescued him out of Shan's tight grip, he thanked God for saving him. He said Shan nearly lured him into marrying her. Well all that is history. What is bothering, some people now is how Shirley would be feeling now.
Some celebrities have decided to reach out to Shirley.
First is Queen Ure Okozie, the ex-wife of Soul E. Her advice perhaps is based on personal experience. Hear her; "I will advice you to go to God. He is the only one who can give direction in such circumstance."
Good advice, isn't it? That was exactly what she did when Soul E took a walk. Now, you need to see this 'Sisi.' She has honestly gotten her groove back.
Florence Onuma, Actress
Shirley, it's a pity that this is happening between you and my colleague Shan. But dear, if I am in your shoes, guess what I would do? I would seek for redress. I will go to law court and sue him. If you are his legally wedded wife, there is a law that kicks against your man's action.
Theodora Dike, Model
I will never allow my husband to kick me out of my matrimonial home, never! As long as he is legally married to me, I will never allow that. But since it has happened to you, I will encourage you go to God in prayer. Let me tell you, there is no one that solves problem in amazing ways than God. Go on your knees and ask Him to fight for you and leave the whole battle to Him. I'm sure what your man is doing with Shan George is not ordinary. There is a spiritual undertone to it. But by the time you pray hard, the scale blinding your man would drop.
Ify Anatune -Educationist
Shirley, if your hubby can abandon you and your three months old baby for Shan George, then he can do something worst in future. There is no need to cry over spilt milk. Just hold yourself and keep on praying. God would touch his heart. Maybe he is under a love spell.
Shareefah Abiola Andu, MD/CEO Arabel
Shirley dear, no man is worth dying for. That is what you should have at the back of your mind. What you need now is to hold yourself. Don't allow that to shatter you. Since Armani has kicked you out, the best thing to do is to go back to your parents. Then get yourself together physically, mentally and psychological so that you would be able to take care of your baby. What is more important is your health. You need to be healthy to be able to nurse your baby well. Then after this, you can then strategise on how to win your man back,