Oracle Seeks $1.16 Billion From Google In Android Case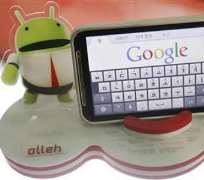 Oracle Corp on Thursday estimated it suffered roughly $1.16 billion of damages from Google Inc's alleged copyright and patent infringement of Java technology used in the Android operating system.
In a court filing, Oracle said Google's claim that the damages sought exceeded $2.2 billion "mischaracterizes" a report by Oracle damages expert Iain Cockburn, a Boston University business professor.
The lowered damages estimate is one-fifth the maximum $6.1 billion that Oracle had earlier sought in the case.
Oracle had sued Google in August 2010, claiming that the Internet search company's Android system infringed Java patents that Oracle had acquired when it bought Sun Microsystems Inc seven months earlier. It also alleged copyright infringement.
The lawsuit is one of several among phone and software companies seeking a greater share of profits in the growing market for smartphones and tablets.
A trial is set to begin on October 31 before U.S. District Judge William Alsup in San Francisco. The judge had on July 22 rejected Oracle's request for up to $6.1 billion, but gave the company a chance to revise its claim.
In a letter to Alsup, Oracle lawyer Steven Holtzman said the revised damages estimate includes as much as $202 million for patent infringement, and as much as $960 million for copyright infringement.
He urged the judge to deny Google's request to exclude parts of Cockburn's report from the case.
Google did not immediately respond to a request for comment. Google is based in Mountain View, California, and Oracle in nearby Redwood City.
The case in Oracle America Inc v. Google Inc, U.S. District Court, Northern District of California, No. 10-03561.
REUTERS