Divorce Mess: Eucharia Anunobi Seeks N.1 Billion From Hubby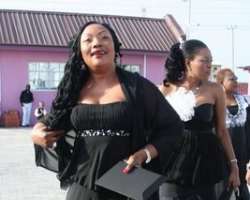 Divorce-seeking star actress, Eucharia Anunobi wants her estranged husband, Charles Ekwu to pay her N100 million compensation.
Eucharia, who returned to court yesterday, asked Justice Elfreda Williams-Dawodu of the Lagos High Court, Ikeja, to compel her husband to pay her the N100 million as compensation for all the expenses borne by her after he fled their matrimonial home.
Eucharia, while being led in evidence by her counsel, Michael Nwana, told the court that she is filing for divorce because her husband has abandoned their home for the past three years.
She told the court that she has solely been taking care of their child from birth to date.
"I plead for the sole custody of the child because he is a sickle cell patient and being a special child I am so attached to him that I can't let him go. I want the court to compel my husband to pay N100million as compensation because I have spent so much taking care of the child after he left,"
However, while addressing the court, counsel to Eucharia asked for the leave of the court to amend their earlier petition on the divorce.
The judge granted the prayers of the petitioner but ordered that all loose ends be tidied up before the next trial date.   
Eucharia had earlier prayed the court to dissolve the six-year-old marriage between her and her estranged businessman husband, Charles Ekwu because the marriage had broken down completely and there was no love between them because they have been living apart since 2006.
She had also on June 3, 2009 during her evidence informed the court that they got married on 20, December 2000 at Ikoyi Registry but the marriage, which produced a boy, Raymond Chinoso Ekwu, broke down in 2006.
According to her, "the marriage has broken down because in 2006 when we had a misunderstanding over his infidelity because I caught him with our 13-year old housemaid and when I raised eyebrows, he moved out of our matrimonial home and till now we have not heard nor seen him."
Speaking further, she said, "barely three months into the marriage, I found out that he was a dishonest person, he lies about almost everything. I entered the marriage baring all my pasts believing that he will be my best friend because I love him but I guess he married me not for love but for the fame.
She also informed the court in tears that the only child of the marriage, a seven year old boy, Raymond Ekwu, is a sickle cell patient, and from conception, birth till now she has been responsible for his upkeep, schooling and the numerous medical bills that accompany after every crisis.
"It has not been easy because I have always been responsible financially for the family's upkeep. We have been living in the house I secured as a spinster, even after marriage and I have been financially engaged in the family because of the love I have for him.
Subsequently, the case was adjourned till 16, July 2009 for further hearing.