RECLAIMING THE MUSLIM IDENTITY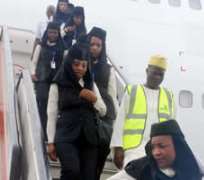 Sequel to the unsavoury events in the recent times across the world, that appear to have given Muslims negative identity, a concerned faith based group, Muslim Public Affairs Centre (MPAC), recently organised a forum to examine what went wrong.
While declaring the forum open, the spokesman of the group, Ustazh Kamor Disu explained that 'the objective of the outing was to find out where things went wrong with a view to finding a solution that will bring back credibility associated with Muslim identity.'
According to him, it was imperative for all concerned Islamic scholars to put heads together to rectify the situation that he said was pathetically going out of hands disclosing that 'this is part of the pillars on which our Centre was formed.'
And truly, notable Islamic and Christian scholars from both within and outside the shores of Nigeria were assembled to address the vexatious issue.
In attendance were the Chief Missioner of Ansar-ud-Deen Society of Nigeria and abroad, Sheikh Abdur-Rahman Olanrewaju Ahmad, the Proprietor, Institute of Arabic and Islamic Institute, Ososa Ogun State, Shiekh Abdur-Rasheed Mayaleke, Most Reverend Josiah Idowu Fearon and Imam Mutahir Sabree from the United States of America (USA) among others.
And for over four hours, the team tackled the topic 'State of our Ummah' and arrived at the conclusion that Muslim identity goes beyond outward dressing of long robe, rosary, beard with a turban to cap it all. The scholars unanimously agreed, for Muslims to reclaim their normal identity that was integral part of the life of Prophet Muhammad (May peace of Allah be upon him).
According to the distinguished speakers, professing the Kalimatus-shahadah, (Faith-Iman), observation of five time daily prayers (Salat), payment of charity (Zakat), fasting in the month of Ramadan and performance of pilgrimage (Hajj) were not enough identity.
They supported this claim with a quotation from the Glorious Qur'an, which stated that, 'faith goes beyond facing the Qiblah for supplication,' adding that Muslims have been challenged to retrace their steps to where Prophet Muhammad asked his Ummah to be.
They recalled that, 'Muslims were known with their intellectual capapility to contribute meaningfully and constructively to the growth, progress and development of any society in which they find themselves.'
It is against this background that they unanimously agreed that Boko Haram, the sect that claims that western education is forbidden, is acting in error and ignorance, noting that Prophet Muhammad had described knowledge as a lost treasure of Muslims which is to be grabbed anywhere it is found.
The discussants regretted that today's Muslims have been divided into three categories namely; the extremists, the moderates and the nominal, pointing out that Muslim identity has nothing to do with violence, chaos and anarchy.
They quoted several prophetic traditions (Ahadith) that teach good neighbourliness, religious tolerance, peaceful co-existence and respect for other tribes and other people's religious beliefs.
Muslims were urged not to lose sight of how Prophet Muhammad's leadership in Madinah was acceptable to all adherents of other faiths through his indiscriminate justice.
The scholars, therefore, urged today's Muslims to also remember how the early Muslims that came to the country from Mali were accepted, adored and cherished to the extent that their (Malians) religion (Islam) was voluntarily embraced.
The Malians were said to have stolen the hearts of the natives through their honesty, straight forwardness, accountability, truthfulness. Dedication to duty and commitment to their religious belief as well as their incorruptible disposition.
The speakers, finally urged the Muslims to imbibe the attitude of promise fulfilling, trustworthiness, piety and other human qualities and moral values that will make all and sundry comfortable and guarantee peaceful co-existence within the society.