NLC, TUC Picket National Assembly Over Privatisation, Deregulation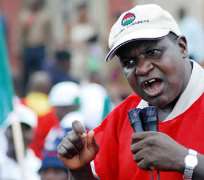 ABUJA, SEPTEMBER 22, (THEWILL) – The Nigerian Labour Congress (NLC) and the Trade Union Congress (TUC) on Thursday made good their threats to protest privatisation of public properties and deregulation of the petroleum sector, as members of both unions picketed the complex of the National Assembly, shutting the entrance for many hours.
The crowd of protesters arrived in buses with blaring loudspeakers with which they entertained themselves as they locked the main gates of the complex, barring staff and legislators from entering. They carried placards with different inscriptions, such as: Join the struggle to save Nigeria, Say no to privatization of public property, mass unemployment and increase in fuel prices, Politicians earn jumbo pay, workers earn poverty wages, and No to hike in electricity tariffs.
It took efforts of policemen and National Assembly security men to prevent them from gaining entry into the main grounds of the complex, but they were addressed by representatives of both chambers.
President of the NLC, Abdulwahab Omar who led the protesters, declared that the rally was to send signals to the National Assembly on the agitations of the bodies. "The message by the entire Nigerian workers is that what we have seen regarding the probe of privatisation in this country is something that is wrong," he said. "And in our wisdom as leaders of Nigerian workers, we decided that we must encourage the National Assembly to do a very good job and that is by coming to show solidarity with them and also telling them that Nigerians are watching so that the probe will not end up like previous ones, such as the Power probe."
He derided the power probe, which revealed that the country had been defrauded of $16b but brought no significant improvement to electricity generation. "What did we see? They swept it under the carpet because of the powers that be. So we feel that we should encourage the National Assembly that they must continue with the good job, Nigerians are behind them.
"Their findings told us as we went through the papers that a company that was worth N344b was sold for to some people for only N22.5m. We will not want that to continue. We were also told that a Senate committee finding also revealed that a company from which the federal government took a loan of $70m and shortly after, it was sold to somebody for only $7m."
Singling out Governor Sullivan Chime of Enugu State, he promised that Labour would confront one-on-one any government that harasses its members with police rather than negotiate with them.
Addressing the protesters, Deputy Speaker, Hon. Emeka Ihedioha made assurances of the willingness of the two chambers to continue dialoguing with them for smooth resolution of the issues. "We will make our report public and accuse those who we think are responsible for pilfering the economy. The report will be out by October, will be sent to appropriate quarters," he promised. "I assure you that we will continue to dialogue with you and in the next few days, the leadership of the NASS will invite the leadership of the NLC, the organised labour and the civil society and we will begin to deliberate on the matters you have raised. I am sure we will find common ground on all the issues."