MERCY JOHNSON'S SECRET AFFAIR WITH GOV. GBENGA DANIEL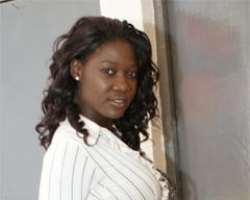 At a recent event in Ogun State organized by one of the nation's soft-sell tabloid, City People where Mercy Johnson and other artistes/artists teemed, the hip studded Mercy Johnson was said to have caught the attention of the embattled governor of Ogun State, Otunba Gbenga Daniel.
During the event, some 'loyalists' of the governor were said to have informed the versatile actress, Mercy Johnson, that her hip might have caused some damages in the heart of the handsome governor that's why he personally presented the plaques of the award to her.
As you're reading this, a house in Surulere and some millions of naira, we learnt, on the pipeline should the sexy actress agree to have a 'pleasant meeting' with the governor at his secret shrine oh sorry haven. While Mercy was said to have fully prepared to have a pleasant time with the actress, the middle man has since been smiling to the bank courtesy OGD