OUCH CLOTHING CELEBRATES THREE YEARS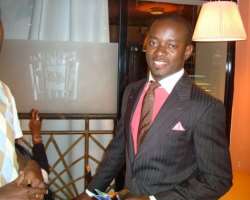 3rd July 2009, Lagos - Niger 's newest style sensation, OUCH Clothing clocked 3 years in the market on the 26th of June, 2009. This milestone was commemorated with a luncheon for selected media representatives in Lagos , as well as an anniversary sale which kicked off on that date.
OUCH Clothing is a stockist of men's globally recognized fashion and style brands with OUCH Branded suits, blazers, ties and the newest entrant, cufflinks. With its major showroom at a strategic location Maryland , Lagos and a staff strength growing to the double digits, the company has also has branched out into major projects for corporate customers across board. It was in 2008 selected as the endorsed designers and suppliers of the wildly popular Polos for 'The Experience' Concert (said to be the largest gospel musical event in the world), subsequently receiving briefs from corporate organizations to replicate the Polos.
"Sometimes it's hard to believe how young we are, yet how far we have come," Uche Nnaji, OUCH's chief executive said, "In just over three years we have managed to carve out a niche that has won us a strong market share, because our business vision has been consistent. Over the past few months in fact, this has also resulted in a dominant voice share amongst the style brands in the country in terms of the media and public perception and we are proud of that. Of course there are challenges that still have to be overcome, but one can say confidently there is a reason to celebrate."
At the launch, the brand also presented to the public its brand new image – with a new logo, and a new brand livery, and brand materials that would re-position the OUCH as it prepares to expand the reach of the brand in the coming months.
"Our target has always been making Ouch into an international brand, and this is not just a way of speaking," Nnaji explained the new brand direction. "We have been working hard over the past few months especially, and we are now poised to merge world class standards with a proudly Nigerian brand, and the attention we pay to detail in terms of our final products as well as our corporate communication reflects this vision."
OUCH, which was one of the selected style brands at the recent Upfront & Personal Discount Fare held in Victoria Island, Lagos, was this year announced as Style Entrepreneur of the Year (The Future Nigeria Awards), and was selected to, over the past few months, mentor and speak with young people first in Lagos and then other states of the country.