DRAMATISTS' FAIR SHARE AT GARDEN CITY FESTIVAL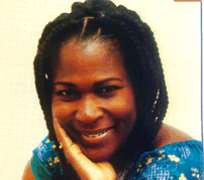 Kalango and Aidoo
The 2011 edition of the Garden City Literary Festival promoted all branches of literature. But Akeem Lasisi, who was at the fiesta that ended on Saturday, writes that its investment in dramatic arts was particularly significant.
If seasoned Ghanaian playwright, Ama Ata Aidoo, had bowed to age-related challenges, she would not have headlined the just-concluded Garden City Literary Festival held in Port Harcourt, Rivers State. Currently, the author of popular plays such as Dilemma of a Ghost and Anowa is supported by a wheel chair each time she has to take a long walk. But this has not in any way affected her zeal, love for literature and passion to fraternise with fellow African writers.
She demonstrated this at the week-long festival that attracted many writers, publishers and other lovers of the book to Port Harcourt, which is steadily becoming identified with the literary fiesta. For one, since the state government, in collaboration with Rainbow Book Club, launched the ambitious project - to the point of bringing Nobel laureates to the city - the old memory of a militant-riddled city has been fading away. Although South African writer, Lisa Combrinck, did not make the festival, Aidoo's coming was a boost to tourist leverage that a project such as the GCLF can attract to the host community.
While the festival recorded another big hit in American civil right activist, Rev. Jesse Jackson, Aidoo's presence made its drama component very pronounced. A key element of this was the presence of celebrated playwright, Prof. Femi Osofisan, who was very radical in his discussion of a keynote lecture, 'Literature and Politics' delivered by legendary Prof. Chinua Achebe. In the address, Achebe challenged African writers to write in indigenous languages - a notion that Osofisan regarded as being unrealistic. It was the diplomatic intervention by the host Governor, Rotimi Amaechi, who, interestingly, studied Literature at the University of Port Harcourt, that averted the intellectual war that Osofisan stirred, as some other discussants that included Prof. Julie Okoh reasoned with Achebe.
And, good enough, another pugilist arguer, Odia Ofeimun, who could have heightened the intellectual tension did not arrive in Port Harcourt until Saturday evening, when he joined a poetry night that brought the festival to a close. While Turkish poet and collector of African poetry, Ilya Tunc, was the star guest at the poetry night, Ofeimun had earlier been in Abuja where he attended the Odia Ofeimun Conference organised by the University of Abuja. Of course, other Nigerian writers such as Profs. Molara Ogundipe, Akachi Ezeigbo, Karen King-Aribisala, Lindsday Barret and Tade Ipadeole, were present throughout at the festival that also featured book exhibition.
Another major theatre component of the GCLF was an intensive drama workshop facilitated by the British Council. With accomplished dramatists such as Aidoo, Emmanuel Emmasealu of the University of Port Harcourt and Wole Oguntokun as teachers, the workshop attracted many up-and-coming scriptwriters, actors, directors and producers to various halls of the Hotel Presidential, where the classes were held. The workshop also afforded former presenter of Inside Africa on CNN, Femi Oke, an opportunity to share her experience with people who flocked to her class.
Oguntokun, a lawyer-turned producer, who has contributed significantly to the resurrection of live theatre in the country, examined issues bordering on script analysis, research, characterisation and determination of theatre spaces. On his part, Emmasealu demonstrated an infectious enthusiasm in his analysis of non-verbal means of communication a director should make use of in the development of a play. He made good use of his talent as an actor by demonstrating each of the non-verbal means that include mime, songs and dance. At a point, one could get so carried away that one would think that one was watching Emmasealu on stage, rather than listening to him in the class. The snag is: blessed are Emmasealu's students if it is with the same academic and creative fervour he teaches back in his university.
Perhaps since old habits die hard, Aidoo chose to mobilise her class to jointly create a story. She started by saying, 'Once upon a time…', to which each participant had to add a sentence - one after the other - until they created the story of a woman caught in a web of circumstances. The last person in the class surprised even Aidoo when he gave his own sentence as, 'When I woke up, I discovered I had all along been having a dream!'
It was thus an inspired Aidoo that charged the group with the need to always explore the power of imagination.
She said, 'Once a story comes into your head, you should let your imagination bring out what you want to do with the story. But my challenge to you is that you should cultivate the habit of resisting distractions and hindrances whenever you want to write. If you decide to write for an hour, two or more on any day, just sit down and write. You need to resist the temptation of browsing, going to Facebook or any distraction that anyone may want to cause.'
She also enjoined them to cultivate the habit of completing a story first, and then read over for editing. She considers reading halfway a distraction.
The success of the festival that also featured children programmes, with Segun Adefila teaching a group of the young ones a drama on the value of reading, understandably excited Amaechi and the Founder of Rainbow Book Club, Mrs. Koko Kalango. In his welcome address, he linked the development of a country to that of its literature, and pledged that the festival had come to stay.