CODE OF CONDUCT BUREAU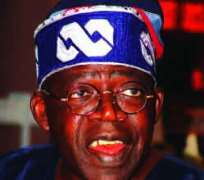 Tinubu
The Action Congress of Nigeria (ACN) said yesterday that the police arrested its members ahead of the trial of the party's national leader, Chief Bola Ahmed Tinubu which is expected to begin in Abuja today.
But the Police said that the members were stopped from entering the federal capital. Tinubu, former governor of Lagos State (1999-2007), will be arraigned by the Code of Conduct Bureau (CCB) for allegedly operating 16 foreign accounts while in office.
This, the CCB said, violated the constitutional provision for public office holders declaring their assets while serving.
He is due to stand trial at the Code of Conduct Tribunal.
In a statement issued in Abuja on Tuesday by the ACN's National Publicity Secretary, Alhaji Lai Mohammed, the party expressed shock at such a blatant misuse of state power against the opposition, calling it the beginning of a dangerous slide towards crass dictatorship.
The party wondered 'why the police, apparently acting on orders, would deprive Nigerians of their constitutionally-guaranteed rights to move freely and express their opinions within their country. moreso when they are not carrying arms or causing public disorder'
ACN claimed that stopping the vehicles conveying the party members and confiscating the keys to the vehicles, just to ground them, is nothing but sheer government tyranny against its own people.
'This is a new low for those who are hell bent on abridging personal freedoms and muffling the voice of the opposition.
'The decision to virtually arrest all our members heading to Abuja to show solidarity with their party leader is a big blow to the rule of law and negates the tenets of constitutional democracy. It confirms the general belief that, indeed, the charges against Asiwaju were politically motivated,'' ACN said.
Reacting to the development yesterday, the FCT Police Commissioner, Micheal Zuokumor, said: 'The action was based on intelligence reports that a large number of ACN members were trooping to Abuja to breach public peace by holding a protest march. He, however, maintained that neither was any of the party men arrested nor their vehicles impounded.
'We heard that over 100 ACN members were coming into Abuja to demonstrate and cause confusion. If Tinubu is coming for any case, it does not warrant any demonstration, more so, by such a large number of persons, so we tried to stop them. If people are moving into a place to cause trouble, the law has to take its course. And in this instance, all we did was that we only tried to stop them, so that we can talk to them, to let them reason with us on why it is unnecessary for any form of demonstration.'
In the charge sheet, the CCB had alleged that Tinubu operated 16 foreign accounts while serving as governor.
Already, the matter has generated controversy with the ACN accusing the CCB embarking on political witch-hunting.
The former gorvernor has claimed that the accounts were dormant as at the time he was governor.
However, the Bureau had in a statement by its Head, Press and Public Relations Unit, Mrs. Iyabo Akinwale, said the case against Tinubu has no political undertone.
The statement explained that the case against the former governor started in May 2007 and was only put on hold to pave the way for thorough investigation.
The foreign bank accounts listed against the governor in the charge include; First Heritage Bank, Country Club Hills, Illinois, USA. Account Name-Bola Tinubu Acount No-263226700.
•Citibank NA New York, USA Account Name-Bola Tinubu & Compass Finance and Investment Company Ltd. Account Nos-39483134, 39483396,4650279566, 00400220, 39936404, 39936383.
•Citibank International New-York Account Name-Bola Tinubu, Account No-52050-89451952 and 52050-89451953
•HSBC, 177 Great Portland Street London, WIW 6QJ. Account Name-Sen. Bola Tinubu, Account No-71253670 SORT Code-40-03-15 • HSBC, 177 Great Portland Street, London, WIW 6QJ. Account Name-Sen. Bola Oluremi Tinubu Account No-1253670 SORT Code-40-03-15 •HSBC, 177 Great Portland Street London, WIW 6OJ.
Account Name-Sen. Bola Tinubu-Money Market Account No-04320002DN. •HSBC, 177 Great Portland Street, London, WIW 6OJ. Account – Tinubu Habibat Oyindamola (Miss) Account No. - 1320960111
• HSBC 177 Great Portland Street, London WIW 60J, Account Name- Tinubu Zainab Abisola (Miss) Account No. - 172447101 •HSBC 177 Great Portland Street London WIW 60JAccount Name- Tinubu Oluremi Shade Account No. - 1916667988, and •HSBC 177 Great Portland Street London WIW 60J Account Name- Oluremi Shade Tinubu Account No. – 41421522
The Fifth Schedule Part 1 (3) of the 1999 Constitution (as amended) says, 'The President, Vice President, Governors, Deputy Governors, Ministers of the Government of the Federation and Commissioners of the state governments, members of the National Assembly and Houses of Assembly of States, and such other public officers or persons as the National Assembly may prescribe shall not maintain or operate a bank account in any country outside Nigeria.'