Norbert Young... It's Showtime At 50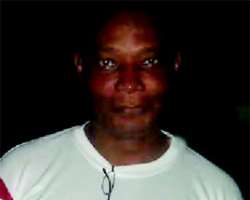 Norbert Young... forget the fact that you see him in home videos... forget his television credits. He is first and foremost a stage actor and an extremely good and electrifying one. Happy birthday to our own boy!
As the years go by ever so slowly and ever so fast we all owe ourselves the gift of memory. Many of us want to simply wipe off this issue of memory but it is one of the very few sustaining facts of life that by the time you clock fifty, you need it just the same way you need your hand luggage - you must constantly carry it.
Nobert is already fifty? That was my first reaction when I was told that you clocked 50 on July 3. I sincerely rejoice with you. Where did all the years go? You have used yours very well. Looking back to the last 25 years, you must be fulfilled that you have lived a rich life that can boast an eclectic repertoire of works and experiences and you will continue to be the richer for it.
The 1980's was our decade of the renaissance for the Nigerian stage and something was happening in Ibadan that a lot of us in the heady days of youth and passion did not notice - most of us from that period went on to create and live glorious lives on the stage. But it was not planned...we just fell into it.
Norbert came into the Diploma programme of the University of Ibadan in 1985, I think. Then he was always wearing jeans and a T-shirt which was the standard dressing then. I noticed he hardly wore slippers maybe except in his room. Most of us did not pay any attention to him but we just saw him because he was a member of the students association, ATAS but the first real notice we took of him was in the departmental production of Barrie Stavis's The Man Who Never Died under the direction of Professor Joel Adedeji. He was good and he was good. A very thorough actor. After that you just could not ignore him.
He had power, he was poignant and there was a passion about him that you just could not ignore! Norbert was simply electric on stage and............yes, I forget off stage!
We got drawn to ourselves and we became friends and brothers! Then he left as it was no longer automatic for the University of Ibadan to give you an admission after the Diploma programme and that was how he ended up in the University of Benin but I have always told the UniBen crowd whenever we meet that it was Ibadan that made him what he was and what I had always thought that Norbert wanted a bank job after school. But let me ask you this. At least on the occasion of your birthday you will not refuse to answer me - Norbert, it means that when you came to UI that time, you should have been my school father! You tactically and with old man's wisdom dodged that responsibility! But as we are all alive and well, you must pay back - you will be notified very soon how this will be!
I must confess that Norbert is one of those few people from our generation who whenever they are in Jos to work or passing through must as a matter of 'duty' look for me in my corner of the world. I want you to know that I appreciate it and when next I am in Lagos, I must meet your wife and family - the glorious Gloria! What a meeting of soul mates - on screen, on television and on stage!
Norbert's career has been built on a strong base - the intellectual meeting the practical. Norbert is a very brilliant actor who has had a remarkable career that has been sophisticated and quintessential but I do not think many people know him as a stage director who is technically demanding yet extremely approachable and humble but I do know this fact and I have been wondering if one day which should be soon, we should not resurrect The Man Who Never Died?
It is my birthday gift to you - may you leave many smiles on the faces of people, may you leave many people happy, may you leave your family richer and above all may you be blessed beyond what you have risen by dint of hard work to become - one of those firm pillars on whom the entertainment industry is resting. Happy Birthday!