Anita Joseph to admirers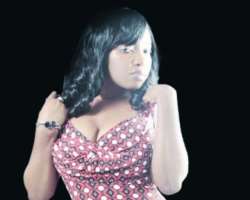 Callipygian, Anita Joseph is back in the news. She just jetted in from South Africa where she shot the first video of her career, Tyme Nor Dey, a track she says she hopes will make men overcome the fear of rejection and open up to the women they truly love rather than bottle up their emotions.
Crooned an excited Anita: "Tyme Nor Dey is for those guys who want to toast you but are not bold enough. I am simply saying boy, make your move now or you could lose me! Most guys are scared of rejection so I'm trying to encourage them. It's like time no dey if you want me, hurry up.
According to her: "Tyme Nor Dey" also talks about other aspects of life. For instance, a mum could be telling her son, do something with your life while you're still young. There's no time."
Anita says she sings about love and issues that touch the heart.
Shot on 35mm by Godfather Productions, an outfit run by a Nigerian based in South Africa, the video obviously cost a fortune but Anita wouldn't disclose exactly how much it costs. "I can't tell you how much it cost but it was quite a fortune. It was shot by Godfather Productions in South Africa."
On her style of music: "I play Hip-hop & R &B. Hip-hop is the music of the times. I have two singles on air, Tyme No Dey and Sexy Boi. But I shot the video for Tyme Nor Dey.
On when the full album would drop: "You don't rush an album. I am taking it step by step. I have about five songs already. Hopefully before the end of the year.