Boko Haram: Obasanjo Visits Slain Sect Leader's Family In Borno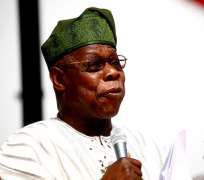 SAN FRANCISCO, September 15, (THEWILL) - Former President Olusegun Obasanjo has waded into the crisis between the dreaded Boko Haram sect and the Nigerian government.

THEWILL sources in Maiduguri said the former President arrived Maiduguri, Borno State at 11.40am Thursday and was received by Deputy Governor Zanna Umar Mustapha.
The source also said the former President was also in Plateau State over the unending killings around the state capital of Jos.

Security sources further said that the former President met with Mohammed Yusuf's family at Railways Quarters, the demolished headquarters of the Boko Haram sect. 

Yusuf until his murder was the leader of the radical Islamic sect.
Obasanjo told the family that the visit was a "personal initiative." He urged the family to forgive and forget the past. He also appealed to the family and members of the sect to give him a chance to mediate between the family and the government.

Sources at the Meeting told THEWILL that Mohammed Yusuf's brother in-law, Babakura Fuggu, whose father was equally executed in 2009 said, "Since 2009, this is the first time any high profile figure in the country would be commiserating with the family."

He said about 30 to 40 percent of the sect members are scattered in neighbouring countries of Chad, Niger and Cameroun.
Meanwhile, the Nigeria Immigration Service has stepped up Patrol along the country's Borders.
Spokesman for the Immigration Service, Mister Joachim Olumba told THEWILL in a conference call that border security has been strengthened along the borders in the last couple of weeks.

He said the Immigration took the measure as a result the Security Challenges in the country and because of the statement credited to a member of the Boko Haram Sect that some of their members have been returning from a training in Somalia, the headquarters of the another radical Islamic group al Shabab.