A Rape Video Nigerian Authorities Must Investigate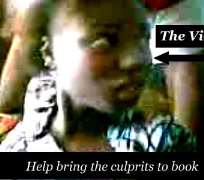 SAN FRANCISCO, September 15, (THEWILL) – Warning, Warning, Warning!!!! The video you are about to view is a recorded gang rape of a supposed female student of the Abia State University, South Eastern Nigeria. It is indeed barbaric and you may find it offensive.
THEWILL has not been unable to independently verify when it was recorded, nor have we been able to identity the victim or her assailants. However, what remains incontrovertible is that a felony crime was committed – the victim was serially raped by a group of supposed students of the Abia State University.
The source we obtained the video said the rape incident happened on Tuesday, August 16, 2011 adding that one of the rapists is indeed a Law student of the university.
THEWILL and the anonymous source of the video intend to get authorities to thoroughly investigate this crime and bring the about five (5) perpetrators to justice. These guys are animals and deserve no place in our societies.
Some of the names mentioned in the video include Uchenna, Wisdom and Chigbo, who is supposedly doing his Industrial Attachment (IT). If you recognize any one in this video, please contact us via email at [email protected] or sms +13107950457. You may also contact your local law enforcement.
The Abia State Governor, Dr Theodore Orji, the Abia State University authorities and Nigeria's Police Force must rise up and bring the culprits to book.