US RETAIL SALES STAGNATE IN AUGUST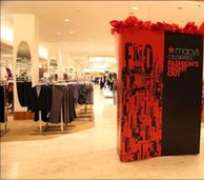 Department store sales continued to suffer
US retail sales failed to increase in August compared with the previous month, adding to evidence of an economic slowdown.
The zero growth rate was worse than expected, and the rate for July was also revised down by the US Commerce Department, from 0.5% to 0.3%.
A fall in car sales weighed down on the headline figure. Excluding cars, sales rose by just 0.1% in the month.
Compared with a year earlier, August sales were 7.2% higher.
'Hunkering down'
Sales have now recovered by 17% since the bottom of the recession in early 2009.
Department store sales continued to suffer, according to the data, falling 0.3% in the month, making them down 0.7% for the year.
"The consumer reacted to the debt ceiling, the downgrade and the equity market swoon by basically hunkering down and not spending," said Tom Porcelli, senior economist at RBC Capital Markets in New York.
"This is not a good sign for an economy that is struggling."
Continue reading the main story
'
Start Quote
It's a broad-based slowdown, and that's pivotal'
Steven Ricchiuto
Chief economist, Mizuho Securities, New York
Consumption comprises some 70% of economic activity in the US, and the weak retail sales data could indicate that economic growth will see a sharper-than-expected slowdown.
Inflation picture
Meanwhile, separate data from the Bureau of Labor Statistics showed that factory output prices were also unchanged in August.
The figure, which was actually slightly above expectations of a 0.1% fall for the month, was held down by falling petrol prices.
Core prices – which exclude volatile energy and food costs, and are closely watched by the Federal Reserve as an indicator of long-term inflation trends – rose by 0.1%.
"[The retail sales data] show the slowdown in the economy is real, and it's working its way into the inflation picture," said Steven Ricchiuto, chief economist at Mizuho Securities in New York.
"The economy is losing a bit more momentum from earlier this summer. It's a broad-based slowdown, and that's pivotal."