'I'm back,' Nse tells Nollywood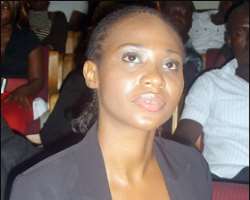 Nollywood new sensation, Nsem Ikpe Etim, is one of the few actresses who have shown great potentials of taking over from those making the news in recent times.
For many movie fans in Ghana, the actress hit the limelight when she played wife to top star Ramsay Noah in the Desmond Elliot-produced movie, 'Reloaded'.
In Nigeria, however, she is not a new face in the industry. Nse realized her flare for acting when she was just 18, then a student at the University of Calabah.
She was into stage acting and as well wrote some scripts. After graduating from the university where she had a degree in Theatre, she bagged out of the arts to pursue different dreams by taking some courses in banking which ended her at the bank.
She continued to work with a fashion company and some radio and television stations too.
But having gone round different fields, eloquent and outspoken Nse says she is now back in Nollywood for good. "I started with entertainment long and dabbled into Nollywood before going into the banking sector.
I guess now I'm back into Nollywood," she told BEATWAVES in an exclusive interview in Ghana.
So far, she has quite a number of movies to her credit including 'Guilty Pleasure,' 'Best Thing Out,' 'Reloaded,' 'Venom of Justice,' 'Scars of Womanhood' and 'Inheritance,' a soap opera.
Nse told BEATWAVES she finds the acting terrain exhilarating.
"It quite pumps your adrenalin because you are not sure of what you expect every point in time. Sometimes it can bring tears to your eyes, sometimes you expect what you want, and sometimes you don't even know what you expect.
It is ok. It is basically a bouquet of feeling," she said, and hoped for a brighter future.
The actress who says she is an all-round person, continued, "like in Ecclesiastics, it said the race is not for the swift, so I guess whatever comes, I will accept it. I'm hoping that I can give the better of my best with the help of friends."
Nse Ikpe Etim, who has played alongside Ghanaian stars as Majid Michel and Van Vicker, is the first child from a family of six.
She hails from Akwa Ibom State of Nigeria. She, like most of her colleagues, likes Ghana because of the kind of reception they are always given when they come here; and noted she would hopefully be returning to Ghana in July.
By Francis Add