Jim Iyke in a disappointing album launch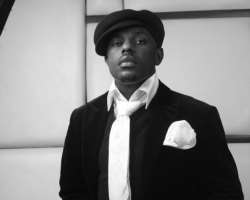 What was promoted as an upcoming and exciting album launch of Nigerian film star Jim Iyke turned into a disappointing show when the program finally got underway. The noticeable flaws, sadly, is not limited to the organizers of the launch alone, but many others including, sometimes, very respectable and highly recognized institutions.
The event which was put together by Accra TV station, TV Africa took place at the Silver Bird cinema at the Accra Mall.
Jim Iyke is one of Nigeria's favourite and loved actors and many Ghanaian lovers of Nollywood movies are familiar with him. As versatile as he is, he has perfectly played various roles and exhibits good acting skills. If not a real bully, then he will be his usual bad boy, which he does with a natural flair.
His command over the queen's language and a fine diction puts the Naija actor relatively a bit ahead of his colleges. He enjoys great fame not only in his oil rich homeland but across the world.
But what he has never been known for is music. When the notices went up about the album launch, I wondered whether the news was true. That's because I've never seen him lift a microphone before.
But here he is, Jim Iyke all ready to launch the 'Who Am I' album. He told his audience that it took close to three years to get it properly cooked. The album boasts of the finest producers in Brooklyn where a couple of tracks were recorded. It chronicles the life experiences of the actor from his early years through years of frustrations to his current stardom. He also touches on areas which needs proper direction and vision- including politics, relationships and perceptions. 'Who Am I' is also a way of appreciating and rewarding his fans.
Artistes who featured on the album include the fêted Nigerian artist- 2Face, Nii (Joe of Mentor Fame) and a Ghanaian Hip Hop group Dem Boyz. 2Face's inclusion on the album will be the best bet as Jim can take advantage of his great fan base and experience. Who Am I, the leading single sounds great with a slow tempo rhythm. It's more of an R&B track laced with sweet melodies. It is a track with traces of commercial viability. Another track, Born to Do It, is composed of solid hip hop beats and great lyrics. Just like Ikeena (another track), it is a perfect party track and a club banger. No doubt a danceable song and expected to catch up fast with the youth.
The album launch however started on a bad note as guests had to wait for over two hours after the advertised time. MC, Yaw Sakyi as has become usual with GH functions apologized for the delay but couldn't resist playing the blame game. Jim gave a template statement after which he answered few questions from the press. Sounding very convinced, he gave the assurance he was getting into music to excel just as he did with movies.
''I am very glad to be here today as an artist and not a movie star. I have been doing a lot in music even though people don't know it. I have been a ghost writer for sometime and I will surely be a great artist''.
Soon it was time to perform and the Silver Bird cinema went dead as everyone wanted to see what the movie star could do on the mike. Disappointingly, the mics went off as the song started to play and after several trials, nothing could be done.
Jim, though disappointed, had no choice to mime and that appears to have brought out the power in him. Assisted by his hype men, Jim added more bite to his act.
He didn't look that great a star, compared to his movie stature. But can Jim can become a power house in music as he has done in the movie industry?