Marriage: U.S. Judge Dismisses Abubakar Audu's Documents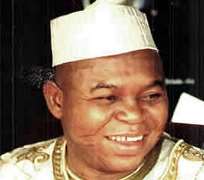 * Court Says Marriage Still Valid In Nigeria
ALABAMA, SEPTEMBER 11, (THEWILL) - These are not the best of times for former governor and gubernatorial aspirant in the forthcoming Kogi State election, Prince Audu Abubakar, who literally became the villain in the ongoing marriage dissolution suit against his wife filed at the Montgomery County District Court, Maryland, United States.
Prince Abubakar had at a time claimed he was never married to Mrs. Aisha Audu, his wife for 10 years and First Lady while he was governor of Kogi between1999 and 2003. He denied the marriage in documents to the Court; but after his wife supplied overwhelming evidence to support her marriage claims, he rescinded his denial in a deposition under oath on Wednesday.
Prince Abubakar also retracted an earlier denial of sole ownership of Goldwindow LLC — the firm he claimed owned his property at Potomac, Maryland — which he had employed in evicting his family from the Potomac residence last year under the guise that the property therein did not belong to him.
At the resumed hearing of the trial to decide "Validity of Marriage," some of the documents tendered by Audu, marked Exhibits 5, 6, 8, and 9, were dismissed by Judge Michael Mason, who deemed them unacceptable by the court because they were filled with enormous irregularities and inconsistencies, and proofs of originals were unavailable.
Although he had earlier suggested that his wife was pursuing the case only to secure a share of his property, he literally contradicted himself when he told the court that his wife was a successful business woman who owns a factory in Abuja, and has companies with interest in power, energy, oil and gas.
In his ruling, the Judge declared that based on the preponderance of the evidence before him, Prince Abubakar Audu and Mrs. Aisha Audu were truly married, and thus have a valid Marriage. Also, he ruled that evidence submitted by the former confirmed he had married one Habiba Audu (Deceased) at that time also.
In view of these findings, the Audus were said to be involved in polygamy, which is not an acceptable form of marriage in the State of Maryland, and thereby precludes the court from exercising powers to "Dissolve" the marriage. He, therefore, ruled that the divorce case could not be continued.
The Judge ruled, though, that the marriage is still valid in Nigeria, and they both remain married until a divorce is obtained through acceptable means in Nigerian law. However, he asserted the jurisdiction of the Circuit Court in Montgomery County to determine custody and child support for the children, a part of the case that will continue.