Heavy Rainfall/Flood Alert In CRS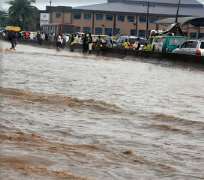 CALABAR, September 13, (THEWILL) - Further to earlier prediction by the Nigerian Meteorological Agency at the beginning of the year that Nigeria will experience heavy rainfall in 2011 and the current flood alert from the Agency warning of continuous heavy rain resulting in flooding in Calabar, Ibadan and Bauchi cities, the Cross River State Ministry of Environment wishes to remind members of the general public, especially residents of Calabar Metropolis and its environs, to as a matter of priority take adequate precautionary measures in and around their premises to protect lives and property and to forestall any mishap.
Accordingly, residents of flood prone areas like Ebito, Target, Murray, Jebs, Palm Street, Umoh Orok, Ediba by Asi Abang, among other streets are enjoined to take note and be very vigilant during rains.
For purpose of emphasis, residents are further implored to desist from dumping refuse into the drains and avoid blocking water channels in any form to allow for the passage of the flooding.
In case of any emergency situations, residents are advised to call Deacon Eyo Offiong on 07030773463 for immediate action. Our environment is our treasure, help protect it, Offiong said.