The Model: Olubunmi Ademokoya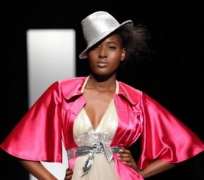 This is the model after my heart right now. For those who don't know her, Olubunmi Ademokoya was runner up in the 2007 Nigeria's Next Super Model contest and she emerged as the Best Model of the world 08, a modeling contest that took place in Turkey and featured over a 100 models from other parts of the world. Bunmi was also Future Award's 2009 Model of the Year.
Based and schooling in South Africa, the 20yr old is currently rocking the international fashion/modeling scene and was one of the most sought-after models at the 2009 Arise Africa Fashion Week. She's managed by Isis Models, an SA based model agency owned by Mrs. Joan Okorodudu, who, by the way, is doing an incredible job of helping a lot of models in Nigeria realise their dreams of modeling internationally.
Check Bunmi out... Double click on the pix
By Linda.E