'DEVIL OPERATES IN THE NAME OF BOKO HARAM'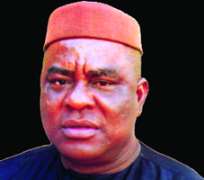 Mr Tony Ohakwe is the President of Imo State Towns Development Association (ISTDA) in Lagos. He is a maritime newspaper publisher and contributor on national issues. In this interview with RACHAEL AGUNTA in Lagos, he spoke on the security situation in Nigeria, Governor Rochas Okorocha's leadership and other national issues.
Excerpts:
Security situation in the country
It is a tough one. What happened recently at the United Nations House, was a shame on the nation. A shame that was painted by some few disgrunstled elements whose mission today we don't know. I do not like glorifying them, by calling their names.
The security situation in the nation is such that it is becoming so alarming. I do not want to blame anybody for it, neither will I blame the police. We have a network of security agencies or organisations in this country. What are they doing?
I will want to call on the president to stamp down his feet on this issue of security. Niger Delta problems were problems by Niger Deltans. It won't be out of the place if we demand that the president should order his vice, Alhaji Namadi Sambo, and all the ministers who are from the North to go and arrest the so called Boko Haram, just like the government under Yar'Adua did with the Niger Delta problems. He called on all the Niger Deltans to go home and assist him in arresting the problem and today, we have gotten a solution. But this is a quite different scenario because the demand of the Niger Deltans was made known.
Today, we don't know what the hooligans and hoodlums want. The security situation is something the government and the president himself, should devote most of the security votes to tackle.
In as much as I condemn the recent bombing in the United Nations Building, yet, it is not the first time such a big organisation building would be touched. Is it because it is in Nigeria?
Yes, it is a disgrace to us. It is good some of these things are happening so that we learn from our mistakes. That is why I love the man they call late Pa Obafemi Awolowo. He always said, it didn't matter how many times a man falls, what matters is how many times he falls and gets up. It becomes a crime when you fall and remain there. In conclusion to the question, I believe Jonathan would deliver.
Insecurity
It makes news, when a fowl is seen killing a dog. But it makes more news when a dog is seen with its might, descending on a fowl. Those who are calling Jonathan names because he did not act like a military man are missing it. If the government had descended on the man who made the statement that he would make this nation ungovernable for Jonathan when he said it, do you think this nation would still be what it is? The answer is no.
We have the rule of law and of course, people say that silence is the best answer to a fool. A true democrat does not act in a haste. The Vietnam war of the Americans took them so many years. They pursued to kill or destroy Osama Bin Laden after September 11, in 2001. Did America jump into it and say he must die? No, it took them a long process and planning. At the end of the day, they achieved their aim.
I have not seen Jonathan as a weak leader or somebody who does not know what he is doing but I have seen him as a calculating human being, who likes to act with time. Yes, some lives were lost in the bombings and things like that but when the militants were destroying all installations in the Niger Delta, did Yar'Adua use force to go there? No, he did not. When Obasanjo went with force to destroy Zaki Biam, what was the outcome? Did it stop the aim or what led to those actions? No, it didn't stop it.
But one thing I wouldn't want Jonathan to do is to go into negotiations with the so-called Boko Haram. Today, as we speak, we don't know what their mission and demands are. What is going to be the role of engagement with them? Under what premises are we going to say we are negotiating with them? I also want to let you know from my own little vantage point that the man who made that point, might be under the watchful eyes of the security agencies.
Everyday is for a thief but one day is for the owner. When the Niger Delta crisis started, we never thought it would end but today, we have peace there. Once in a nation's life time, one disturbance or the other would crop up and with time, just like the book of Ecclesiastics says, there is time for every season.
The devil is operating in the North through the Boko Haram but he will be tamed and arrested. So, we should not label Jonathan a weakling, after all, good leaders are those who listen and take time to act.