Ali Baba bows out in grand style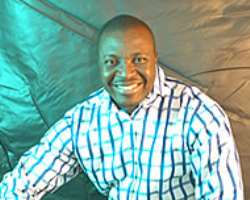 IT was an evening of excitement, last Friday, at the Expo Hall, Eko Hotel, Victoria Island, Lagos when frontline stand-up comedian, Alleluya Akporobomerie Atuyota... (a.k.a. Ali Baba) staged an event entitled, 'Ali Baba Again, He, Them and I'.
The high profile entertainer also said the two-day session of comedy, music and variety entertainment stapple was to be his last outing as a comedian. But the valedictory outing did not fail to pass a unique function.
The event was so widely attended that the roads, from Bar Beach to Eko Hotel, were blocked, and guests waded through parked cars to find their ways to the venue.
As the audience sat early and waited for the programme to begin, guests were treated to rounds of jokes by some young comedians drawn from Ali Baba's teeming followership. Among them, Seyi Law, Mc Shakara, Helen Paul, Princess and others.
There were also thrilling performances from such music artistes as the Bracket group, which sang their current top chart hit track, Yori Yori and the deep-lyrics crooner, Sound Sultan. Then came the turn of Mad Melon and Mountain Black (a.k.a. Danfo Driver), who performed tracks from their new album Meshango.
Packaging and patronage of the two-day event (Friday, June 12 and Saturday, June 13) was so remarkable that when Ali Baba, regarded largely as a mentor of many of Nigeria's top comedians came on stage, he was overwhelmed with what he saw. He showered encomiums on his staff and those behind the event and on the Mad Melon and Mountain Black duo, who left the stage before he came. In his characteristic rib-cracking punchline he threw a banter at the duo hinting that he thought they had lost their 'street credibility' within the years they were out of the scene before the new release. "It is good to bounce back", the influential comedian told the enthused singers.
Delta State born Ali Baba, a graduate of Ambrose Ali University, Ekpoma, Edo State began stand-up comedy entertainment by default as a popular campus act in the late 1980s. Upon graduating and relocating to Lagos he hinged his art on featuring as side attraction anchorman in social events. His immense talent in punchline cracks and dramatised short tales made him a coveted act with easily recognisable name. He also was unique and innovative in the way he packaged his art and personality. He employed several marketing approaches to gain wider social acceptance in the corporate world – erecting billboards in strategic places in Lagos, placing adverts as well as 'Thank you, messages to clients who had supported his events in newspapers and writing regular colmn in the dailies among other initiatives.
Soon, he was the top act in almost every big event including the state functions hosted by the President in Abuja and several states where, because of his outstanding gift in the art he had a reputation of even poking fun at his hosts to their delight. Some of such memorable events happened in Aso Rock, where he had a record of interesting banters with the former President, Chief Olusegun Obasanjo.
Gradually, he built himself into a brand as even car owners and shops and telecommunication organisations gleefully displayed his stickers and posters. His success ushered in a boom in the comedy business with many of his associates and products from his stable growing into big-bucks entertainers.
Content at his epochal role in the hitherto unremarkable area of art, the man in his mid-40s opted to retire from the rib-cracking trade and work more behind-the-scene "to let the younger ones grow". The two-day event with tickets selling from N5000 to N10,000, was therfore, his valedictory from a two-decade endeavour in stand-up comedy performance which transfomed him from a hapless but talented job-seeking Urhobo boy in Lagos to a well-to-do entertainment mogul and celebrity who now heads some solvent corporate ventures.
Eventually, the event was befitting as his teeming proteges, associates and patrons gave him a noteworthy outing.