OSHIOMHOLE & HIS SHADOW BOXERS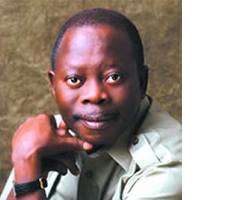 My attention has been drawn to an article published in Vanguard newspapers, dated Wednesday, August 17, 2011. The article titled 'Osa Director and his shadow boxing' was written by two senior media aides of Governor Adams Oshiomhole but they chose to credit the byline to one Osatohamren Omoregbee a non existing person. So why the mask? Who is shadow boxing now?
Seriously, the duo should work hard to earn their pay, and the only way to do that is by taking credit for newspapers articles written by them. More so, that would enable historians and people of Edo state to properly situate their role in the second coming of the locusts. If these media aides of Governor Oshiomhole are proud of the actions and inactions of their boss, they should proudly defend him openly rather than wearing a mask to do so.
In exposing their less than altruistic intentions, the article was laced with warped logic, political inexactitude and hypo critical dilations. The Benin name Omoregbe does not carry a double letter 'E'. On the said date this jaundiced article was published, Edo state government also used tax payers money to carry a full page advert titled 'Open Letter to Benin Youth Council', ostensibly written by The League of Young Edo Professionals (LEYEP) and signed by one Osatohamen who was generously awarded a Phd title.
Was it sheer coincidence that two different Osatohamen wrote these articles on same day? Certainly, this flaw by Oshiomhole's media aides was a crass display of intellectual indolence and lack of creativity. Reading through the two articles, any gifted student of stylistics will see the uncanny similarities. The two articles were written and edited by the same persons.
To say I am not a giant in frame or among my people is begging the question. Matthew Urhoghide, who I referred to as a political heavy weight in my interview that they quoted from was manipulated out of the Edo south senatorial ticket. So, if being a giant among the people was the yardstick, why did Urhoghide not pick the ACN ticket? It really did not matter whether one was a giant among his people or not. What was important was if anyone was ready to pay the price of Governor Oshiomhole and lick his arse.
Really, was Governor Oshiomhole a giant, politically that is, among his people when he contested in 2007? If he was why was he nomadic in his search for a political party platform? Oshiomhole traversed the major political parties then, searching for a free ticket without participating in any primary election. He moved from PDP, ANPP, formed Labour Party and finally pitched his tent with ACN.
If Oshiomhole was really a giant among his people why did he not contest the governorship election under the Labour party he formed? Why go and grovel at the feet and cut deals with the Igbinedions, Ize Iyamus, Senator Owie and Captain Osa? What was he afraid of? After all, Dr Segun Mimiko ran and won under Labour party which was hardly in existence in Ondo state at the time. We know who is the giant among the people.
For the records, I never contested in the so called ACN primary election, either for the senate or House of Representatives. I indicated my interest to contest for the senate seat but was manipulated out of the process by Oshiomhole's shenanigans.
Two of his media aides, Peter Okhiria and edited by Tony Iyare knew a bit of the last minute move to draft me into the House of Representatives race. But again, they got their facts wrong. I never ran under Oredo local government. I would have run under Egor / Ikpoba Okha federal constituency.
Therefore, I never contested against my good friend Razak Bello Osagie as alleged by the writers of that article. It was my brother and friend of over 30 years, Patrick Obahiagbon, the son of Igodomigodo that contested against Bello Osagie but because of Governor Oshiomhole's pathological insecurity and morbid fear of intellectuals and independent minded people, he had to abbreviate the rising star in Obahiagbon. He manipulated Igodomigodo out of the race.
Several others have tales of woes to tell. While committed state governments were sending secretaries to state government, SSG to the senate, as it happened in Delta and River states, Governor Oshiomhole moved against his own. His SSG, Pally Iriase was denied a senate ticket and had to wrestle a House of Representatives ticket for himself. Peter Akpatason of NUPENG was stopped from aspiring to the senate too. Comrade Isibor, his commissioners, Dr Tunde Lakoju and Abdul Oroh were victims of the self opinionated super godfather. So was Dr Sylvester Odion-Ahkaine, a committed prodemocracy activist and many others.
While openly mouthing one man one vote mantra, Governor Oshiomhole was working silently to constrict the political space. He gave a standing instruction that all incumbent members of Edo State House of Assembly should be returned. That was his compensation for their acquiescence to all his chicanery. Only two who had 'serious' issues with their equally powerful godfathers failed to make it back to the house.
The writers claimed I praised Oshiomhole before so why am I attacking him now? Well, I commend the commendable and condemn the condemnable. When Oshiomhole showed signs of good governance I commended him, especially after bulldozing all the major roads in Benin City. Then one thought he was serious but with Airport road in Benin City, for instance, a road less than eight kilometers still unfinished three years after, there is course for alarm.
True, there was no primary election in ACN in Edo state so I couldn't have been kicked out by my people. Nobody but Oshiomhole who wants to be the only cock that crows in Edo politics kicked me out.