Nigerian Businessman, Iwuanyanwu, Loses Wife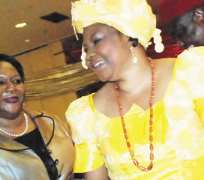 IMO, SEPTEMBER 04, (THEWILL) – Lady Eudora Nnenna Iwuanyanwu, wife of Chief Emmanuel Iwuanyanwu, renowned Nigerian politician, businessman and elder statesman, is dead. The 63-year-old mother of five, who had been on life support of late, reportedly died in London after a sudden cardiac arrest in her home. Family sources have confirmed her interment for Friday October 7.
Confirming her death, one of her three daughters, Ezinne, termed Eudora's passing on as "the greatest pain and heaviest burden" she has experienced in life."
"She was a very selfless person. Everything she had, she shared with us. She loved the simple things of life and valued her belief in God. She participated in various charities and was involved in church work. Sitting around her children made her happy." Continuing, she described her mother as an entertainer "at home," who ascribed huge "importance" to her family. "No matter how upset you are, she will make you happy. She was the one we ran to when we had problems."
Leading the crop of influential Imo State women who have been condoling with the Iwuanyanwu family, former Commissioner for Women Affairs, Julie Onyeukwu, said Eudora was "a peaceful woman and a very big supporter of her husband. "She had positive impacts on those who came around her. As a woman leader, she had a power profile yet remained humble and down-to-earth. Shje lived by truth at all times and lived a transparent life worth of emulation. She was a good friend and will be greatly missed."
The late Eudora Iwuanyanwu was a critical success factor for her husband, who grew 'Hardel and Enic' to a conglomerate of more than 20 companies, founded the famous Iwunanyawu Nationale Football Club (now Heartland FC), publishes Daily Champion Newspaper and has had a fairly successful political career.