K-I De Ultimate in trouble over lewd lyrics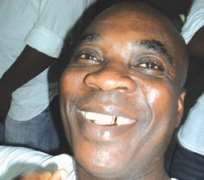 With the sneers and jeers currently trailing the recently released audio CD of the self acclaimed Fuji music king, K-1 De Ultimate, music critics have begun to wonder why the 5-star Fuji music general cheapened himself with lewd lyrics.
Although, diehard fans of K-I see nothing wrong with the lewd lines in his live performances that were adapted into CD, K-1 has gotten himself in the bad record of Fuji music enthusiasts.
While it's no longer news that one popular Islamic cleric Alfa Hamoda Ope has taken K1 to the cleaners over the new audio CD titled Faaji Series SS can authoritatively reveal that one of the lines, where K-1 sang, "Eyin Mama mo fe muyan yin (Mama I want to suck your breast) has earned K-1 heavy knocks and tongue thrashing among the elites. "I don't see anything wrong with the song, it's just that most Nigerians are hypocrites," said one of K-1 loyalists.
On the contrary, a frontline Fuji music promoter, who pled anonymity, castigated K-1. "I am really disappointed in K-1. I expected him to be a role model to the younger ones, though, he used to code his vulgar lines, I don't know when he joined the league of empty headed artistes, who are hiding under lewd songs to sell their CDs," he said