Is your pant line on display? That's fashion blunder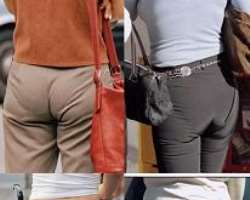 You do know that this page (Fashionista), is where some fashion etiquettes are itemized every week likewise the lifestyle of fashionistas. We also promised reeling out some fashion mistakes, which could help you avoid falling a victim.
Knowledge they say is power. Previously we made mention of some style blunders such as leaving your armpit lush, sitting and mistakenly keeping your legs apart, wearing midrib tops on bulgy tummy etc.
So ladies, this week we are going to unveil another fashion blunder. And that of course is displaying your pant line. Your panty line isn't supposed to be showing on your skirt, gown or trouser. Style experts have asserted that on no account should an observer see your pant line or trace the shape and size of your pant. Not even the colour. Here are some panty tips they (style experts) handed down.
•Never flaunt G-string on a low hip jeans. That is not ladylike.
•Don't wear white pant on a transparent white trouser. Don't make the mistake of slipping into red hot pant, shocking pink pant on a white skirt that has no lining. This is when you should either try black pant or black tight.
•It is wrong to wear undersized pants. Naturally you would by intuition draw it out before people and that is not hip.
•If you prefer wearing sexy pants with hooks on both sides, ensure that it is your size. If you slip into an undersized one, it can snap. That is embarrassing.