Tuface's black day in Abuja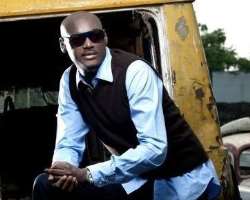 For Tuface Idibia, Nigeria's top ranking music artiste, Monday 18 May, 2009 will surely remain a sad reminder of the many battles he has been up against for a while now. If he had any doubt about his dwindling career before that day, the ugly scene that saw him being booed out of the venue of a show where he performed as the star artiste erased such doubts. I am sure he went back to the drawing board soon after that day.
I have said this before and will quickly want to repeat it. Handlers of the out of favour African Queen Crooner are not helping him. Or is it that he is not listening to them well enough? What ever it is, it is no longer a debate that the Benue-born artiste's once promising career is in trouble. Except something urgently is done, abeg, make I no talk the talk.
The Abuja show, which took place at the Old Parade Ground, was said to have gone on smoothly until Tuface's emergence on the stage. Miffed by the alleged lateness of the act, the fans first rejected him, urging to continue his performance instead. But after the Benue boy toasted them severally, he was asked to ride on by the not-too-convinced crowd.
However, trouble returned midway into his performance as a section of the crowd shouted at him to stop singing his old songs. Their demand for fresh tunes angered Tuface who reportedly dropped the microphone and stormed off-stage. This seeming act of arrogance further enraged the disappointed audience who took hold of whatever they could lay their hands on from stones to sachets of pure water, to bags of pop-corns, and hurled it at the retreating musician. But for the swift reaction of security personnel at the event, Pero's husband would have been lynched.
Tuface, who recently swallowed his vomit the dog way when he retraced his steps back to NowMusik, the label he abandoned for Kennis Music years back, after his latest work, Unstoppable proved to be a classical flop acceptance-wise, has been battling a mirage of crises that are fast telling on his performance on and off the stage.
While still suffering from the bad publicity generated by his multiple out-of-wedlock babies, the artiste's professional rating nose-dived, fuelling speculations that the numerous battles coming at him from his multiple partners on the home turf may finally be dragging him down with them. Apart from the fact that Tuface is not enjoying the kind of patronage that saw him rising to the very top of the industry in no time, his performances at the few shows he managed to corner are said to be below expectation.
The Abuja show, pundits say, is a confirmation of the fortunes of the musician and should send his advisers thinking. His recent return to NowMusik is seen by many as one of the many moves expected to return the embattled father of plenty pikins to limelight. Ogbeni Idibia, you can be rest assured of our prayers, you'll really need them to stay afloat. Best of luck.