Why I've not cut my hair in 50yrs –Soyinka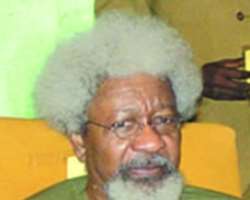 Renowned playwright and Noble Laureate, Prof. Wole Soyinka, has said he has not had a hair cut in the last 50 years except once when a fire incident forced him to trim his hair.
The human rights activist, who was a guest on a popular television programme, monitored on Sunday, Moments with Mo, stunned his audience, saying that high cost of hair cut when he was a student in England forced him to shun barbing.
In his words: "When I was in England, the barbers were charging too much. I didn't think it was necessary to pay that much for a hair cut. This was around 1959 or 1960, so I stopped cutting my hair. Besides, I noticed that when I comb my hair some hairs fall off, so my comb has become my barber.
"The only time I cut my hair was when I had my hair burnt by candle light at Abeokuta. There was no light, so I was reading with candle, and after a while, I began to smell something burning, I didn't know it was my hair that was on fire. So due to this, I had to trim the affected part."
Soyinka also took swipe on the immediate past president Olusegun Obasanjo, describing him as a psychiatric student.
The human rights activists said for many Nigerian leaders, especially those at the highest level, who he had had opportunities to teach and suggested a few things to, Obasanjo was simply a failed student.
On how it feels like being a Noble Laureate winner, Soyinka, again, bewildered his audience as he said the honour was a burden to him.
"People expect so much from you as a Noble Laureate. They even expect you to change in terms of everything. You have to watch what you do, what you say, and all that. The worst of all, you don't have your privacy any more," he said