Basketmouth Protects Deal With Glo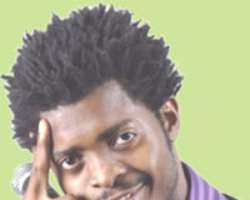 Comedian, Basketmouth, is probably the highest paid joke merchant in the country right now. Please, before you start reminding everyone about Ali Baba, go and crosscheck the facts on whose comedian is being paid what in the last two years. We do not base our argument on a simple fact like the dude called Bright Okpocha offstage hosting lavish party for his one year old son where he behaved as if he is the child of the President by asking security men to crosscheck the names of invitees to the party. This is Abuja where the children of the rich and powerful government functionaries host parties in their father's mansions or even the big shot themselves host parties in their posh hotel suites and an invitation shown their aide is enough, no guest lists, no spindle legged, barrel chest 'bodyguard' harassing you.
Back to the subject of our gist, the dreadlocked comic was at the Hip-hop awards penultimate week and as he was about living the International Conference Centre, venue of the show, one of the paparazzi asked him to pose for a picture in front of an MTN banner. Basketmouth showed the most important trait someone in his trade should have, quick wit. With a wicked smile he told the paparazzi you know say I no fit snap here as he quickly walked to a neutral banner, that of Hip Hop World magazine and struck a pose. Ride on Basketmouth, nobody in his right mind would want to loose the millions Glo is paying for your services, especially when you know that a long list of your colleagues wouldn't mind showing the people at Glo your picture with an MTN background.