I can act sex roles… my husband understands!----------Chidi Okoroafor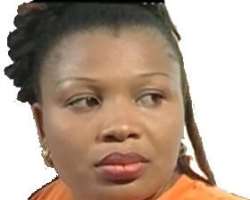 Chidi Okoroafor is a Nollywood act who is sure-footed. She tells Highlife how she leads a normal life not allowing fame to rule her. She started acting close to a decade and half ago when she gained admission to study Mass Communication at the Federal Polytechnic, Oko. Then, her uncle, Chike Anyanwu, an actor, was at Aba, trying to shoot a movie. So, when he was auditioning, he told her to come and play a role because the character suited her.
But how did she perform being a greenhorn then? "I went to Aba, auditioned and got the role. Yes, I was a greenhorn then, but I did well. So I naturally got the role. It was an Igbo film anyway with the like of Clarus of the New Masquerade, Boy O Boy and other seasoned actors in Aba. I shot my bit and left for school," she says, recalling her first time in front of the cameras.
After that first outing, she was given a role in Idejimba, an Igbo film that made waves back in the day. But she turned down the role. She gives her reason: "My parents refused! They said I should go back to school. They said that acting would obstruct my education. I hearkened to them and went back to school. My dad was so much against it. He was a headmaster and you know how strict headmasters are. He insisted I should go back to school and when I graduate, anything I want to do with my life, I could; but I should get education first. I said, okay."
She later got her Higher National Diploma, did her Industrial Attachment and she went to Enugu, then capital of Anambra State, where she continued with acting, her first love.
Recalling the experience, she said: "They were auditioning for one film then. I took part in it. I shot that movie with Nkem Owoh. There, Sunny Collins saw me and gave me the role of Ifeoma. That was when so many other roles started rolling in."
She says the first time she went on stage, she wasn't jittery at all. "I wasn't even afraid at all. Honestly, I wasn't because this was something that I had been longing for. Most often, I was going to locations with my uncle and I saw how they were doing it. So, when he called me and offered me a role, I was indeed, happy. I was bold. I accepted the role and I did it well."
Once upon a dream…
Okoroafor disclosed that when she was a little girl, she used to have a dream, which she shared with her father. "As a little girl, I used to tell my father I would be a newscaster and not an actress. But when I grew up, I saw there was more to being a newscaster. I made effort for my dream to come true. That was why I read Mass Communication and majored in Broadcasting. But I just opted for acting. I would have been a good newscaster though."
Burden of stardom
Chidi copes well with the fame that goes with her career. But she says that there was a day that fame caused her to shed tears at Panti Police Station, in Lagos. "I went to Panti Police Station to see a friend. One man just came out from nowhere and hit me in the back! It was painful. Honestly, I asked him, Oga what is it now? He said to me, you made my wife cry the other day. I asked him what? How? When? The man didn't even apologise for hitting me! He just went into the barracks and called his wife. And I said to her, 'Madam, what did I do to you?' She said one role I played in one movie made her shed tears. The embarrassment was so much that I ran into my car and drove off immediately."
There is yet another experience that would remain green in her memory. "Yes, that was when I did my son's one year birthday party. I couldn't remember inviting 50 people. But at the end of the day, I saw lots and lots of people in my house. A crowd! The adults that came were more than the kids."
Chidi misses privacy, hence she craves it. "Honestly, I don't have privacy except when I'm inside my bedroom. Once I'm outside, people will begin to wave at me. And I'm the type that whenever they come, I welcome them."
As a celebrity, there are certain places one shouldn't be spotted shopping. For instance, a celebrity is not supposed to be seen buying 'Okirika' (fairly used clothes.) However, Chidi says, why not? "My dear, I don't give a hoot about that," she quips. "Oh yes! I don't. I always go to buy whatever I like wherever. When they look at me, I look back at them. Whatever I want to buy I buy. I don't mind. I live my life real. I don't live a fake life. If I want palm oil in the house, I would go to Dopemu because it is close to my house. If I want Okirika for myself or for my children, I would be free to buy. I don't care. Even when some people do come to tell me, Chidi, I saw you buying Okirika, I tell them that Okirika is meant for everybody. So, allow me to do my thing the way I want it. I even board commercial buses, I mean Danfo, why not? I have good cars. But at times I use motorbikes. At times I take cabs. It depends on the traffic situation in Lagos. I live my life the normal way every other person does. I don't live to please my fans and displease myself. I believe that was what made my husband love me the more. If he should say, Chidi go and prepare Ugba for me, I would quickly take a bike and buy Ugba and the ingredients if I don't have them in the house. Most times, when I see my fans while I'm on a motor bike, I wave back at them. I am not embarrassed that I'm on a bike. What for?"
Fulfilled
However, she is fulfilled being an actress. "I'm fulfilled that I'm an actress because anyone that is not in the acting world is missing a lot. I'm proud to be an actress. There is no regret about it."
Super mum
It is very daunting for career women to combine the home front with their jobs. But Chidi says she does that with ease because of her husband. "I have an understanding husband who is very supportive. Most often, if I have a job, I would come home and we would discuss it first and he would tell me how to go about it. My hubby helps me a lot. He likes doing things with me; he carries me along in all he does. He doesn't leave the cooking strictly for me. We do our things together because it is said that once you are joined together, you are one."
There is no role this act won't accept. She is versatile, hence she doesn't reject roles. "As a good act, you are not supposed to reject roles no matter how daring or mean. Once a role is given to me, I would show it to my husband. If he says, don't do it, which he has never said before, I won't do it. But honestly, there is no role I can't do. And it all depends on the script. If the script says kiss, I would kiss. I have taken up some romance roles. I told you that my husband understands. He understands my job and knows the kind of woman he married," she says on a final note.