Global economic meltdown will end soon—St. Paul Peters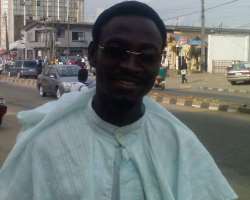 The proliferation of gospel music in Nigeria has actually gone to its highest ebb, no doubt it is becoming glaringly impressive, particularly for those artists who got divine call for the purpose of winning souls for Christ, in consonance with the dictates of the Holy Spirit. St. Paul Peters has however, displayed some uncommon distinctions which seemingly gave him edge as a Prophet, musician and multi-instrumentalist. He spoke extensively with Modernghana.com on a number of issues.
Excerpt:
Who is St Paul Peters?
Ans: Alright I'm a young man born into a priesthood family, umber 3, among 8 children. I had my post secondary school education in Ire, Osun State Polytechnic where studied Business Administration and management. Paul Adedoyin is my name while peters Agboola are my father's names. By divine guidance and instructions, I became St. Paul Peters. I run a music ministry and a prophetic ministry so that makes me a gospel artist and a prophet simultaneously. My unique style of Music is called HEAVENLY RAPSODIES.
Question: What informed this debut album to be titled ''Birds Sing Holy Song''?
Ans: There was a day like that, I was under a tree and I heard a bird singing, not in a dream or a vision, precisely under a tree, the bird was singing swapping its wings and it was gaining a lot of attention from me, and God interpreted that scenario to me that the bird was saying it could do perfectly what human beings could not do to Him, (God) through praises and thanksgiving. I was amazed. And I took up the challenge that for a bird to sing a holy song to God Almighty, what about me the image of God I should be able to do better, even better than the angels. That was what actually propelled me to come up with this initiative and I can tell you authoritatively that God is taking all the glory since the inception that divine inspiration.
Question: As a gospel artist/prophet what kind of event do you think you would like to partake in as a guest artist or participant?
Ans: Thank you very much. I sing at different functions like crusades, conventions, seminars, conferences, wedding, naming ceremonies, house warming, funerals, anniversaries infact any kind of church programmes. Apart from this sing at symposiums organised by NGOs, Local, State and federal government, some dignified societal gatherings, functions. I equally take part in events organised by corporate bodies be it promotional stuffs or kiddies stuff; I act as consultant for various companies in terms of jingles, adverts, sound tracks for movies, writing and composing theme songs. As an extension of my prophetic abilities I attend different denomination for programmes, preaching the gospel of Christ. Conducting of healings and deliverance sessions are part of what I do and I bless the name of the Lord for that because signs and wonders really manifest to the shame of the devil and to the glory of God. I do anything or everything about music so far its dignifying. God is so faithful in my ministration the blinds receive their sights, the cripples walk, the dumb speak, the deaf hear, dead are raised, demons are cast out; those under bondage are set free; all to the glory of Jehovah His grace remains sufficient.
Question: Recently we learnt that you experienced spiritual attacks, could you share some of the experience with us?
Ans: I bless the name of the Lord for everything in life. I had a vision early May 2009, that a strange reptile was sent to me and it went straight under my car to destroy the car and it later turned to a human being and later the human being was doubled. I woke up and discovered I was not myself my eyes were popping out of the sockets and my head was almost splitting into pieces. The following at home I received a call to come down stairs, I got there lo and behold I found a huge black crocodile under my car waiting for me to step close and attack me but to the glory of God I was rescued and people and some other senior men of God assisted me in killing it. Though it was very difficult before we could get it killed but at the end God took all the glory. My house is not in the forest neither is it close to the swamp, so how it got to my house to attack me I don't know and it's still remain a mystery. For some hours my house became a mini zoo, all this happened in the broad day light, physically not in the spirit realm.
Question: As a prophet what prophetic word do you have for the world at large especially in this moment of economic uncertainty?
Ans: As my God lives, the God of my fathers Abraham, Isaac and Jacob, and God of Apostle Ayodele Babalola, the God of my fathers pastor Enoch Adeboye, Bishop David Oyedepo and my father pastor Dr Peter Agboola, the global economic meltdown will end soon.
Questions: You have 8 tracks in your album, which one would you consider as your favorite and why?
Ans: I love all the tracks on my album, but there is this particular one I chose to be my favourite because it talks about freedom for the entire human race. Be it black or white, Mongolian or culcacian. And that is what I preach, the love of God and emancipation for the people of the planet earth. Oneday, someday we shall attain it oneway or the other in our individual lives.
Question: It was rumoured that everyone in your household are into gospel ministry, can you put us in the true light?
Ans: It is absolutely true, not a rumour, my daddy Pastor Peter Agboola is a man of God a reverend gentle man, and also my mum, my elder brother is a prophet, Pastor Debo Agboola, my elder sister Mosunmola Agboola too she is also into gospel music ministry, all my younger sisters and brothers are actively involved one way or the other in everything that has to do with Christ. In my house if you are not singing you will preach or handle musical instrument. And for me too I handle most musical instruments because I went through thorough training before I started branding myself as musician. I preach, I make prophetic utterances, I pray etc. And when I minister through music people receive their sight, mad people gain their senses, honestly miracles happen, my brother I tell you, signs and wonders follow me I don't follow them.
St. Paul Peters can be contacted through the following links: [email protected] or +2347025413629, +2348052267303, +2348066721709 and +2348086117114.
By Emmanuel Ajibulu
[email protected]