The Weekend Star Kanayo O. Kanayo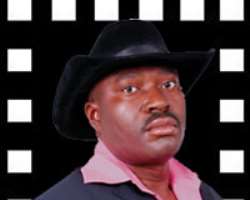 Super actor and showbiz personality Kanayo O. Kanayo popularly called K.O.K by his numerous fans and well wishers is a household name in the entertainment clan.
Our star of the week has survived the controversies and scandals that have consumed top Nollywood stars. K.O.K who hardly borders about publicity said in one of his interviews with the press that as a role model "I take my time in anything I do both at home and outside it, believing that the kids both at home and outside it, believe that the kids who might want to be like me are watching".
That consciousness he said, just turned out naturally to be panacea in keeping himself out of the trouble of Nigerian Soft Sell Magazines. Although there have been pressures from some of the actresses and other female admirers, he could not allow the desire of the flesh to rob him of his sacrifice and dedication to get to the top of his career.
The popular role interpreter and celebrated showbiz person may have taken this path of honour in line with the popular believe that it is how one makes his bed that he lies on them.
The Nollywood star has taken part in countless movies based on cultism, secret cults and rituals most of which he played a key role.