1,000 Miles Ready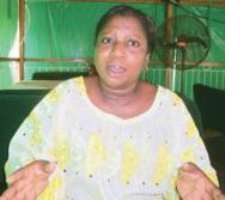 A multi-million naira rated film entitled One Thousand Miles (Egberun Maili), will be premiered in Nigeria and other parts of the world soon.
The flick, produced by Dotun Taylor (Aroba) and African Urban Cinemas, features Bukky Ajayi, Binta Ayo-Mogaji, Biyi Samuel with Alhaji Ahmed Abubakar and Funmi Fiberesima, as lead characters.
http://nollywoodgists.com gathered that the movie, which is directed by Dotun Taylor, will be premiered in Nigeria and other African and European countries in June.
The movie is about Omolola Adebayo, an intelligent chartered accountant spinster, who mistakenly sends a text message meant for her fiancee to a stranger's phone. The stranger, Iwitunde Kupoluyi, turns out to be a conservative artist, who is also a farmer in Osogbo.
He responds to the text, writing one of the best love poems Omolola has ever read. Omolola, on the other end, gets really curious and begins to speak with this stranger on the phone. When she later notices that her existing relationship may be threatened, she tries stopping her relationship with the stranger, but could not.
One day, she gets too curious and wants to add a face to the voice of the stranger, who hates the hustle and bustle of Lagos. She eventually makes the journey all the way to Osogbo and her life turns around.