I have not forgotten my dream of becoming-----Biyi Samuel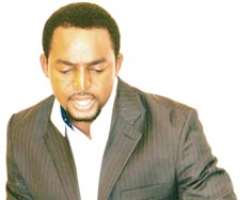 Biyi Samuel is a young artiste, but he is heavily influenced by older artistes like Chief Ebenezer Obey, Tunji Oyelana and Akeeb Kareem, and this reflects in his compositions which are not only contemporary in nature but mature. Samuel is also in love with a cappella performances. He said he got this influence from his love for South African music. Born and bred in the church, Samuel embraced music as a toddler and, not surprisingly, he joined the choir. Because of his special gift, he was co-opted into the adult choir while his peers were still struggling to find their voice in the children choir.
Samuel came into prominence a couple of years back when he was invited to sing the title track of a movie called Igi Aruwe Unfortunately, his star that shone brilliantly with the soundtrack dimmed when, because of naivety, some people played a fast one on him and robbed him of its copyright. For years, he groped in the dark until recently when lady luck smiled on him. Today, he has become a fast rising folk music crooner.
Apart from performing at wedding ceremonies, Samuel serenades his audience at a monthly gig in Oregun, Lagos.
Samuel is an artiste who seems to forget about the whole world while performing on stage; the ease and expertise with which he displays his stagecraft isn always enthralling. He sings with passion and because of his predilection for love songs, one may be tempted to see him as a Casanova.
But Samuel told Appetiser that he had developed a liking for singing about love because of the environment he grew up in. However, he said there was nothing in what he was doing to suggest that he had derailed.
He said, "You can see that my love songs are clean. I don't do vulgar songs even though I sing about love. They are inspirational and therapautic, especially for troubled souls. If you say I am a gospel artiste, I can be accused of confusion when I sing other things apart from gospel."
A science student during his days in secondary school, Samuel dreamt of becoming a doctor. But the stumbling block was his poor performance in Physics. And when it appeared that he might completely lose out and remain unfulfilled, he decided to dump the dream and embraced the arts. And on his own, he gathered books Literature and Government and began to toy with the idea of becoming a diplomat.
"I thought that if Physics would not allow me to become a doctor, I could do something that would allow me to dress in smart suits. I then decided to become a diplomat to represent my country," he told Appetiser.
Samuel went ahead to read international relations at the Obafemi Awolowo University, Ile Ife. The way the artiste is going about his trade now, one wonders what has become of his desire to become a diplomat as a young man.
He told Appetiser, "Who knows; I can still become one (diplomat) in the near future. Being an artiste does not in anyway stop me from doing that for my country. I just love to dress smartly and meet people around the world. But before that, it is music for me because it is natural. I started music as a toddler because of the circumstances of my birth. I was born and bred in the church and I joined the adult choir when I was still a toddler due to the gift of music that was discovered in me very early in life."
Samuel is already working to put his new album on the shelf soon, but before then, his two singles, Seun rere, a gospel number and Mase were, are on the airwaves.
"By July hopefully, everything, including the video of the songs, should be out and you will agree with me that it is vintage Biyi Samuel. We are working round the clock for the video shoot of the songs," he boasted.