I'm A Born Again Christian, Says Eucharia Anunobi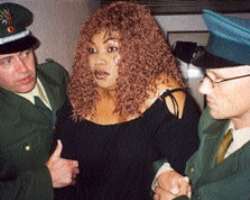 Arguably one of the nation's most prominent actresses, Eucharia Anunobi has been enmeshed in controversy and weathered storms, escaping almost unscratched.
Loved by many, and especially respected for her dexterity with the English diction, this English language graduate of the University of Nigeria, Nsukka, has moved to the fore of the acting profession.
"Going to school does not necessarily make you speak well, though I read English in the university. To acquire my diction, I practise vigorously and this has helped me grow more and perfect my pronunciations.
"While growing up, I went through the dictionary a lot and I still create time to do that. I also learnt how to do pronunciations while watching TV, and I listen attentively to people who speak very well. I do a lot of self-training because I believe that if you want to be good like someone, then you have to learn to be like them.
"I imitate those people that speak very well whenever I see them talking. For me, I would say what has also helped me is self training, and I still engage in such activities because life is more about improving yourself," the beautiful actress enthused about her diction.
Unknown to many, the mother of one boy, who claims that her ex-hubby abandoned her, started out as a fashion and photography model, while at the University of Nigeria.
"I had always wanted to be an actress right from the start, but I actually started out as a model when I was at the university, and this is because at the time, my acting talent hadn't grown as I would have preferred, and I prayed and practiced hard while modelling.
"My acting career began when I heard about the production of Living in Bondage and though I was quite young at the time, the National Youth Service programme further prepared me for the opportunity that came my way, when I went for an audition and got a role from Christian Michaels in a flick that was not eventually produced. But I met Kanayo O. Kanayo on the set and he felt impressed with my potentials.
"After a while, when a character was needed to play the leading role in Nneka, the Pretty Serpent, Kanayo remembered me and told them to look for me, and that was how it all started," UK, as Eucharia is fondly called, recounted.
Though Glamour Girls II gave her the big break in Nollywood, UK, maintains that she is not what she portrayed in the movie, for which she is often stereotyped.
"I have been born again for several years now, and it wasn't like somebody converted me. I just decided to get closer to God and that was it. People just mistook me for someone else because of what they see me do on TV or in movies.
"The job of an artiste is to play different characters, when I play the role of a prostitute in a movie, we are showing and showcasing to the world that prostitution isn't good and doesn't end well for those engaged in it.
"However, the fact that I am born again will not stop me from acting or stop me from taking a particular role because it's my job and what I am paid to do. But aside that, I educate and entertain people while promoting good values. I'm not what many think I am because I will not play irresponsible roles as a child of God.
"I'm one of the most wonderful human beings that God created. I know this, and have been told this severally, because I am an intellectual, very humane, love to love, love to forgive, feel for people and have empathy for those around me. Whatever I do, I do it very well and so, I believe I am a perfectionist.
"As a practicing child of God, I am very tolerant, though I don't take nonsense from anyone. I detest lies and those that understand me well will definitely move on well with me," Eucharia said.
Without doubts, she became one of the most sought after actresses after her brilliant performance in the Glamour Girls II, and with popularity came good pay and enhanced status. How has she been coping with all these and many more?
"After Glamour Girls II, my rating and fee skyrocketed and I have continually thanked God for that particular film, although I have featured in several other flicks since then. God has been good to me.
"I pray it gets better here in Nigeria as regards the money, but for me, I don't see any sense in getting away from those who love me, because they are the ones that made me by approving my talents. I am a realist and despite the fact that the accolade could be suffocating at times, I always manage to draw the line.
"The truth is, I couldn't have been the person I am without the fans. It's wonderful and I so much feel honoured anytime they request something from me", she said.
It is believed that Eucharia is one of the richest Nigerian actresses living big. What does she have to say about this?
"I am very rich in the Lord. The Lord has been so wonderful to me, blessing me with so much intellect, wisdom and talent. Material things aren't something you lay claims to. One can have several cars and they can get burnt in just one day although we don't pray for that. I can't even say this is how much I have in my bank account, but one thing is sure, because I am a child of God, who is born again, I believe I am wealthy, because God said when you have Him, you have everything in the world. I am so rich in the Lord."
For a woman, who was so fond of her ex-hubby and was known to have been so committed to the marriage while it was intact, how has she been able to cope with the shock of separation from
the man who left her and her son?
"Well, I believe it's all because we were not meant for each other, and I have to be there for my son. What used to be the responsibility of two adults has now turned into that of just one. We were so close when the going was good, he loved me and I loved him too. I was never too far from him and my son, except when I was on location.
"I shared seven years of my life with him. We were in the UK for many months before we returned and he loved me as much as I loved him. I have moved on and I am living my life to the fullest with thanks to God Almighty, who has been with me all through," Eucharia concluded.