I'm married to a 21st century man--------Thelma Ojiji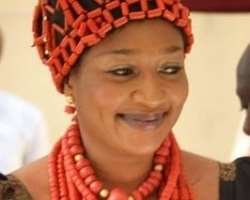 How does it feel being married?
It's been blissful so far. It's been a wonderful experience. I am very sure that I made the best choice. As for the intricacies of acting and my not marrying an actor who you say will understand better, well, my husband is very educated. He is a 21st century man let me put it that way. He understands everything, he is well read, and he is a lawyer so he knows everything about my job and he understands all about my job and he is fine with it.
Can you describe that day?
It was a beautiful day. Everything was in place, my friends and family where there beside me. We partied till 9 pm. I couldn't have dreamt of anything better, it was beyond my expectation.
I cried at one point when the pastor told him to tell me things from his heart and it was enough to make me cry because it came straight from his heart.
Acting
For me, it wasn't a first love thing. Though I did a programme in Theatre Arts but that wasn't my major course. I have a degree in Mass Computer. I took the Theatre course just as an aside.
When I left school I was into other things but most of my friends were acting already and they talked me into it. So while waiting for my results to come out, I decided to get into acting since everyone around urged me to do so.
Big break
My big break was not a movie, it's soap. The soap is titled Treasures by Chico Ejiro; it brought me out to the limelight. I had done a couple of movies before I got to be part of the soap but with the soap, I was brought out. It's on T.V and everybody is watching it, so it sticks faster.
Being on set of Treasures
It was beautiful being on set but initially, it was challenging because the role they gave me is totally different from whom I am, but I did it and it worked and people commended the way I carried that character.
Getting a role on Tinsel
It was just God who gave it to me on a platter of gold. MNet called for an auditioning, which I attended, I didn't hear from them for about six months, only for them to call me from the blues that I had gotten the role, I couldn't believe it.
We started last year, it's been on air.
It's been great and a total different experience from what I am used to, the Nollywood thing. At Tinsel, we have international producers, directors from South Africa.
I am playing the role of a Moslem girl; I have a signature outfit which involves my wearing something to cover my head and putting up a humble and unassuming front.
The role is totally different from what I am used to.
Challenge playing the role
It was not easy when we started but it brought the challenge, which was different from what I used to have. I have a signature head gear; I have a particular way I walk. There is this serene thing about the character.
Being able to get into any character is what makes a good actress. Once I started, I just went with it.
Life as an actress
It's fun and at the same time not all rosy because I may want to do some certain things but since all eyes are watching me, I can't get to do those things. I'm not free, except that every other thing is fine.
Nollywood
It's a fast growing industry and it is unbelievable but one of the major problems we have is piracy. Secondly, our producers need to go that extra step; they need to do some more thinking than they are doing to improve the market. Because you find out that it is the same stories, it's getting boring and a lot of people are complaining. It is monotonous.
Nigerian Broadcasting Corporation's (NBC) decision on Mexican soaps
We have good soaps. I personally do not watch Mexican soap operas, because as far as I am concerned, their acting is bad, though they have good stories. I was wondering why they gave them more slots so I am happy with what NBC has done by taking them to late at night.
Don't you think it's because we don't have good stories?
I agree but then again we have the problem of funding. If script writers are funded well we won't have this problem. The basic problem with our soaps is funding and it's not as if our producers and directors don't have anything good, they need funding.
Why get involved in Virginal Monologue?
For two reasons, first I was excited to do stage because the last time I did stage was in school.
Secondly, the cause also made me get involved. It's about violence against women. I felt it is a very sensitive issue.
On stage with first time actresses
I must say they were all brilliant actresses. Omawunmi and a couple of others were natural. It wasn't like a competition, we all worked together as a team and got the best out of it.
Will you still do stage again?
Definitely, most definitely I will do stage again. I am thinking of doing more of stage acting because it is really challenging. It brings out the best in you.
Stage is more difficult than TV because you are expected to exaggerate every move, it's actually more difficult and that makes you an actor, if you are good on stage then that is it.
Balancing marriage, career
My husband is very 21st century and he understands and as far as I am concerned that is all I need, an understanding husband. Like now he is in Abuja and I am in Lagos shooting for Tinsel and he understands that it is work.
I am going to try as much as possible to balance the two for now because it is my husband and my job and with him on my side we won't have any problem.
Was it love at first sight?
Yes, yes, it was love at first sight seriously. I never thought love at first sight existed until it happened to me. I was smitten, I was overwhelmed. It was nothing I could put my finger on but he is just the simplest of men you have around.
How did you meet?
We met on the set of the first Virginal Monologue in the year 2006. We went to Abuja to show it and that was when we met. It all started from there.
The other Thelma
Well, many people don't know that I am a workaholic. I love working a lot. Even my husband quarrels with me that I am not always at home. When I am not on set I'm out doing so many other things and I have businesses I do on the side. I am a busy person.
What is in your handbag?
I have my wallet, my perfume, my make-up bag and my hand cream. I love my perfume because I love to smell good always and the make-up is a lady's thing.
Growing up
Growing up was so much fun because our parents gave us the best ever. I am from a large family.
We grew up in different places because of the nature of my dad's job so we had to move from one place to the other.
Growing up experience taught me loyalty. My dad was a disciplinarian and he always sang it like a song to us to be loyal to each other. I am loyal to my friends and family and it has seen me through.
Your best friend
Rita Dominic is my best friend. We have been friends for 16 years, we have been through so much but we are still together.
I'm a loyal friend and she is loyal too. That is just it; if you are loyal to your friend there is no way you will part. We have our own differences, in fact in school we used to quarrel like every minute but we make up in the next five seconds.
Our friendship is beyond stardom and her being a big actress. We passed that stage like ten years ago. We are more like sisters now.
Most memorable day
When my husband proposed to me. It's so memorable because I didn't see it coming. My worst moment was when I lost my dad and my mum followed right after. Losing both parents was painful.
Philosophy of life
Take a day at a time. No stressing about anything. I love to just take life as it comes.
Actors/actresses you admire
Rita Dominic is a great actor and her dress sense is superb. But there are so many actors and actresses I admire because they are good. Internationally, I love Angelina Jolie.
Background
I am from Uromi in Ishan local government area of Edo state. My mum was from Enugu state. I am from a family of 10. I schooled in Benin, Port Harcourt and Uyo.
My husband is from Ikom in Cross River state and I knew how to cook Afang soup before I met him and perfected it now. Then his mother taught me how to cook Ekpang Nkukwo.