My Mother's Death Fast-Tracked My Return To Nollywood - Florence Richard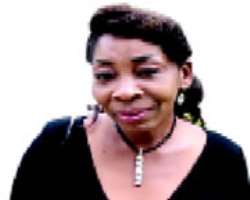 An encounter with Florence Richard will, instantly, send you to another realm in the movie industry; she is an actress that really knows her onion. A born again Christian almost gave up acting in her early days in the industry, as she said, "my Mum didn't want me to go into acting at the early stage of my sojourn in it because of the vices associated with the industry".
She reveals that, "acting is part of my life. It was during my secondary school days that I started doing proper stage plays and I belonged to several societies. I started with Centre for Cultural Studies, University of Lagos in the 80's and one thing led to the other."
A product of the Federal Polytechnic, Bauchi, where she studied Estate Management, she comes from Asaba, Delta State and has worked on various projects both on radio and television. She played the role of Otun Iyalode in Sango and later left the industry because of her mother's condemnation of the vices in the industry but never returned until her demise, which gave her the opportunity to express herself more in the movie industry: "The death of my Mum pushed me back into the industry, which I initially left because she complained so much about it, especially about those people that drink and smoke in the industry which she believed could influence me."
There are people aspiring to be like you, what message do you have for them?
When I started this thing, I had a passion; I didn't think about the work, glamour or money. I just had a message and I wanted to share it and the message was hope, God and encouragement. And that was all I did.
Any challenges?
Very tough. Many producers know that you are good and the best for a particular role but if you can't play 'ball' with them, you are on your own and the role will elude you. However, if you have God, you have everything.
Having featured in Wale Adenuga's Super Story, 'I Need To Know', 'African Radio Drama', '7 Days' and 'Sango' in 1997, Florence is simply a force to reckon with in the industry. Fortunately for her too, she is married to an actor, producer and director. Asked how she copes with the home front, she said, "It is God. I have two boys and my husband and I don't go to location at the same time. It's either me at home to take care of the kids or my husband. In that area, there is no cause for alarm"
Born again in acting, what is your view?
There is nothing wrong with that. When I became born again, it was imperative. God instructed me to just focus on the Bible and it worked for me, because I really got a heavenly reasoning which, kind of, guided my life.
What next?
We have a lot in the pipe line to give to the society. Beautiful dramas that would re-shape the entity called Nigeria but we need sponsors and good financial backing to achieve this task. It is well!