I've always been a ladies' man –Kosoko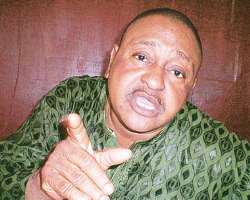 Prince Jide Kosoko, the screen king, was bitten by the acting bug when he was 10 years old. As a child, he was the family's ... ultimate clown who regularly entertained his siblings and relatives with jokes, even when he never knew it could become a meaningful source of income. In this interview with YEMISI ADENIRAN, the president of the Association of Nigerian Theatre Practitioners (ANTP) speaks on his experience as the head of the Yoruba artistes and his plans for the future.
How long have you been acting and how did it all start?
I started acting in 1965. Then I was just 10 years old and had barely made up my mind about what I really wanted to do in life. It was one of our tenants and a member of a group called Ifelodun Theatre group that introduced me into it. They were then working on a play which required a boy of my age. The play was entitled Makanjuola. So, they invited me and I did the auditioning alongside some youths of my age. I was preferred and I made my first original appearance in that play. From then on, I have never looked back.
It means you have about 44 years of acting experience?
Yes.
Are you fulfilled?
I am fulfilled. Since I came into acting, I have been at the pinnacle of the profession. If one remains relevant for upward of 40 years in one's lifetime, one must continuously be grateful to God. I have weathered the storm of yesteryears when actors were paid peanuts and God has ensured that I remain part of those reaping fruits of their hard labour. What I mean is that I have been opportune to experience the good and the bad of the profession.
Did you ever envisage you will get this far in life?
No. When I was taking off, I was just flowing with the fun of the moment and I just decided to give it my best. I knew I was going to succeed but then I never knew I could come this far. I used to eye the likes of the late Hubert Ogunde, Baba Sala, the late Ade Love, the late Duro Ladupo and many others. It was by God's help that I got to where I am today.
What has been the drive?
It has been simply the passion and love for the job. If it had been for the sake of money, I would have dropped it. But then, the love for the career wouldn't let me. In those days, it was never in the habit of our parents to give their support to a child who was interested in acting. So, you can imagine what the task was like for somebody like us. The passion in itself is like a bug and as irresistible as it is, it kept on urging us further till today.
When you look at your life now, what is the kind of feeling you get?
I get a nostalgic feeling. Whenever I look back now, I always remember the good old days when we used to paint Lagos not only red but in different colours. We were not short of abundant fun. We were all like one big family sharing everything together and moving almost towards the same direction.
As a handsome man, I believe you must have loved women a lot in your younger days?
There is no man who does not like women. No man would say he does not appreciate motherhood and ladies. Women had always flocked around me, may be for my looks may be for my talent. I used to be popular in those days more than now. I am always a lady's man, but I never lost my head. I can tell you that I have no problem in my home, we are all living fine and God has been very supportive.
How many films or home videos have you been part of?
I cannot really remember. I have lost count. They are many, at least not less than 150 films.
A lot of your admirers always commend the natural way you usually interprets all your roles. You do it with all your strength? How have you been able to achieve this despite your physique?
Whatever is worth doing at all; is worth doing well. That is why I always give my best to whatever I am doing. I always endeavour to interpret my scripts and roles to the best of my ability and to the satisfaction of directors.
What are the things you had then that you think are absent today?
I think the standard of work generally was higher then. For instance, if you talk of performance of the technical aspect of the job, now you have people who are learning on the job without the kind of support that they need to help them learn. What the old school had was that people were trained in whatever field they were in, so they understood the mechanism of their profession. Today, for instance, there are very few directors who are actually good movie directors and they don't work all the time. They are not the kind of people that marketers would easily put money down for and this is sad.
You have been the president of ANTP some years now. How has it been?
It has been so far so good. No doubt there have been challenges here and there but I thank God Almighty for giving me the ability to cope and we are still coping. Don't forget that it is a very large organisation that consists of different kinds of people as members. We have the cool headed, the hot headed the literate and the illiterate, but I thank God.
What are some of the impacts you have made as the president of ANTP?
I think the committee is trying but I guess it is a slow progress. I am part of a group of actors who are working hard to re-invent stage production. It is gathering momentum and I can say that a lot of people are now involved in stage productions. For now, a wonderful thing is happening at the National Theatre. A lot of artistes are involved in stage plays now. It is a new culture developing amidst us.
How do you relate with your colleagues?
Our relationship is very cordial. I respect all of them and give them listening ears when necessary.
Is it true that a lot of actresses get sexually harassed before they are given roles?
I don't know what you are trying to say. I have never harassed any actress or have you ever heard or read about Jide Kosoko harassing any woman over roles? I don't know why you press people are always particular about actors and actresses getting harassed sexually over roles. Are you saying this does not happen among other professionals or don't people in the same career go out with each other? If you are insinuating that some of us sleep or force actresses before allocating roles to them, then that may be very unfair on your own part. Relationships are bound to happen between two individuals who have taken after each other and I don't think you expect me to meddle into that. We are all adults, each person is responsible for his feelings and decisions. I am also sure you have not received any report from any of our actresses of being raped by a senior or a colleague before. So, what are we talking about here?
We learnt there is a ripple building up in ANTP over the next presidential candidate. Are you re-contesting?
I have no intention of contesting again. At my age, I need to retire and rest. There is no ripple in ANTP. A committee has been set up to harmonise this in the interest of members. Once my tenure is over, I am off.
Do you have any candidate in mind that you feel would benefit the group?
How can I? It is going to be strictly by people's choice. I am not military ruler and so I cannot dictate to them.
Would you subscribe to the belief that there is discrimination against Yoruba artistes by their English and Igbo speaking counterparts?
It is a general notion but I think it is not very true, especially with someone like me. I get invited by them quite often. You can attest to it that I have been part of many of their films, both on the television and in home videos. We have no problems. It is only the associations under which we divide ourselves that are different. We invite them, they also invite us.
Is it also true that they are paid better than the Yoruba artistes?
Yes, but not all the time.
Why?
Well, I wouldn't know how to answer that. They rate their artistes better than us, but we are also getting better.
What are the challenges of this job so far?
Finance, lack of support from the Federal Government, poor electricity supply, it is all slowing the work of acting down. There is also no conducive environment for our work. In other countries, the government always come to aid their work and make some revenue from them. We also need to be assisted for optimum growth.
What advice do you have for your colleagues?
My advice is that everyone must strive to be educated. It is not good as many illiterates now flood showbiz. I would want then to seek knowledge and hold on to it. Becoming a professional is an aid to tangible success and it is capable of standing one out any day. We should also work on a qualitative storyline which would always be filled with suspense and realities. Life relating stories should be encouraged while immoral ones are discouraged. This is why I appreciate this Remdel's annual Behind the Screen seminar. It enables artistes to re-discover and get equipped with all the armour they need for this job. It is not only acting that needs to be learnt, others like photography, editing, directing, production and so on. There should also be respect from those up-coming ones to the elders. The Bible says honour those who should be honoured and regard those who are due for it. In doing this, more ways are bound to open for greater exploits. Let there be unity and understanding too to allow easy access to each other. No man is an island.