My father didn't want me to be a broadcaster –Moyo, Walter Oyatogun's daughter/Star FM presenter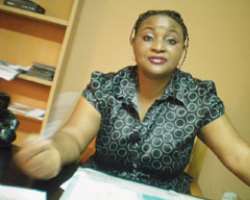 Moyo Oyatogun, head of Programmes, Star FM, is famous in her own right. Moyo, who anchors Daily Guide, a popular breakfast programme on Star FM, with her younger sister, Mofe, speaks to ADEOLA BALOGUN about her career and famous father, a former Nigerian Television Authority broadcaster.
Siblings of the same sex are believed to antagonise one another, but here you are anchoring a radio programme with your younger sister. How do you manage?
Well, as children, Mofe and I had our own fights and all that, which is normal among siblings anyway. But as time went on, we began to share common ideas, views and values. Even now, we are still different. I am on the cool side while she is a bit upbeat. Now, we are mature, we have our children, so there is no problem at all.
Which of you brought the other into broadcasting?
Broadcasting is something both of us had always wanted to do in one way or the other. When I started working, it became an opportunity for her and our younger sister to try their hands on TV programmes and all of that. So, they did that for a while. Then, a lot of things happened and the programme stopped. A couple of years after that, we needed a co-presenter on Daily Guide. I noticed that Mofe possessed the wit required for the programme, so I invited her. In fact, when I presented her and some others to the management, it was discovered that she had the highest potential. It was not that she was keen actually, because she had always seen herself as a TV person, as someone in love with the camera. She didn't like radio at all. But as time went on, she started blending, though she still loves the camera.
Three of you siblings are in broadcasting, are you doing this to please your father?
No, I think it has to do with what flows in our system. In fact, he never wanted us to go into broadcasting and we ourselves never wanted broadcasting.
Why?
We didn't see broadcasters living a fulfilled life; the pay is too poor. He didn't want us to toe his line; he wanted us to pursue other careers that appeared more rewarding.
How did you find yourself in broadcasting then?
When I left school, I tried to do other things like public relations. I even tried to get into acting, in order to explore Nollywood, but I found that it didn't work out. I was always going for audition but nothing came out of it. It was like they already knew those they wanted and most times, they were just looking for those they would use for what they call waka pass. Even to get that was difficult because all I wanted was to get a leading role. So, after trying my luck with acting without any result, and realising that that was not the only thing I was capable of doing, I ventured into broadcasting. After all, I had a certificate. I read Mass Communication.
Why did you go for Mass Communication, I thought you didn't want to be a broadcaster like your father?
What happened was that when I was trying to choose a course in my JAMB form, I wanted to go for Law. But as I was trying to fill in Law, my mother, who was passing by said, 'Don't deceive yourself by entering for Law. From day one, we knew you are a journalist. So don't deceive yourself writing any other thing there, because it will not work for you.' She said that and walked away. In fact, I hated that moment of my life. Grudgingly, I filled in Mass Communication and I then walked up to her and said, 'Are you happy now? I have entered for Mass Communication because of you, so go and submit the form yourself.' Later, she came back to me and said she was only trying to tell me the truth.
Considering your experience in broadcasting, would you say you regret not studying Law?
I don't think so. I believe we are all blessed in our different endeavours. As a journalist, I have the opportunity to reach out to so many people and fields. A lawyer does not have that kind of opportunity.
You have experimented with TV and radio, which one do you prefer?
I prefer radio because it enables one to reach a wider audience which TV would probably not be able to cover. It may not be as glamorous as being on TV, but it is okay by me.
Have you ever run into trouble because of the critical nature of your radio programme?
Of course, a lot of times. In fact, I give kudos to the management of this organisation, otherwise we would have been yanked off air a long time ago. You know we talk about issues, politics and politicians, and a lot of people don't find these funny at times. You know our society still see talking about issues and personalities somehow. A lot of people feel we are too blunt. You know, our society is still conservative to a very large extent when it comes to such issues. But then, a lot of people too have come to accept us and even encourage us to continue. What we have learnt to do is to abide by the rules of the profession even when we are trying to be funny or witty.
What of funny and threat calls?
We used to get those a lot, but by and large, I think people have learnt to accept us as we are, and they appreciate what we do.
There is this belief that women don't have time for hard issues but for things like fashion or gossip. But you talk about economy, politics and happenings around the world...
We were doing all that before we got married, so they have become a part and parcel of our daily routine. For me, for instance, my husband even assists me in getting information and putting a lot of facilities at my disposal. At times, he calls my attention to some things he thinks I am not aware of. Even my children put me on my toes because they want to get information from me. It's not easy, no doubt, but one has to be up and doing.
Why are some men reluctant to have their wives go into broadcasting…
I think it depends on the way you relate with your husband. If you want to show that you are now a broadcaster, and so he can not talk to you, that will actually cause a problem. I think it is important for women broadcasters to regard and respect their spouse no matter what happens in their jobs.
Did you get married before you came into broadcasting?
No, I got married as a broadcaster.
Your husband must have been one of your fans…
Well, I don't know if he was one of my fans, but he used to tell me that in those days, he was one of my admirers on radio. The first time he called me, he said that he was one of my fans and we got talking from there.
Has anybody accused you of turning your programme into a family affair?
Yes, people have done so. Of course, there is nothing you do in life that will not be criticised. That is why we all must be careful in whatever we do. Opportunity was given to everybody to come forward and we found that those who came for audition performed below expectation. In fact, when it was zeroed on Mofe, I never wanted her to come on the basis of being a relative. You see, there is a big tragedy in the type of graduates we have nowadays. A lot of people came and said they wanted to be part of Daily Guide and we sounded them out, but we could not get suitable ones. At a point, I was pregnant and wanted to go off the air for a while, but the person who was supposed to continue the programme said she couldn't be coming every day. She also said she would not script the production and that the producer should just bring the script to her in the studio, she would read it and that would be all. So we had a major challenge there. In fact, I had to go on maternity leave because my baby came unexpectedly. The management then said why don't you bring this your sister in, after all, she had been on probation for a while. So those were the circumstances under which she came in. Whenever people bring up such issues, I have a very clear explanation.
The way you two present the programme suggests that you are friends, not sisters. Is it just an act or is that the way you relate outside the studio?
Part of it, of course, is scripted. Whatever we do is scripted, even though we bring in one or two things on our own. We have differences. Nobody will try to cover up that aspect of differences. That is part of the profession. That is the difference between professionals and non-professionals. Professionals will do the job no matter what happens. However, we are friendly and when we get on the programme, it is a different ball game. Even what we do here in Nigeria at times is wrong because of our environment and culture. In broadcasting, there is nothing like saying 'sir' to somebody being interviewed. There is no 'Aunty' or something like that.
How was growing up like?
We had challenges because we grew up during the Structural Adjustment Programme of the Babangida administration, which affected families then. Our family was not an exception. We couldn't enjoy a lot of privileges that were due to us. It wasn't easy growing up, but we survived it. That is why I often say that anyone in position of authority should be careful of the consequence of any action or policy concerning the masses. That is one thing I admire in President Barack Obama of America. We were told that he has a culture of reading 10 letters from citizens and even replies personally.
Your father was an NTA official during the period. Are you saying that the family suffered during the Babangida administration?
We didn't have it rosy. Even though he was a broadcaster with the NTA, he was still a civil servant. That was one of the reasons he didn't want us to come into broadcasting in the first place, because he felt it was not financially rewarding. Even now, he has a lot of regrets because he has largely been forgotten. He had served in various capacities as far as sport development is concerned. Nigeria is not a country that remembers its own.
Is it because of his experience that you people are running away from sports?
No, I don't think the genes flow to that level. Interestingly, we tried to do that, but it just didn't work out.
I heard you were based in Ghana at a time.
Yes, some members of our family are still in Ghana. I was even born in Ghana.
Perhaps, that is why some people say your father is not a Nigerian…
We are Nigerians. We are from Fiditi. My dad's family was into trading at the time. I was told that my grandmother, Aishetu, went to Ghana to trade. She fell in love with the place and decided to stay. That was how the story of staying in Ghana came about.
So how was growing up in Ghana?
I was five years old when I left Ghana for Nigeria, and I have been living in Lagos since then.
How was schooling?
I attended UNILAG preparatory school. Later on, I went to Queen's College. I later attended the University of Maiduguri to read Mass Communication.
Why Maiduguri?
I wanted to learn how to speak Hausa language and because I had lived in Lagos all along, I wanted to know what life looked like in the other parts of Nigeria. Now I speak a bit of Hausa.
How was life at UNIMAID?
Very interesting. I was even the president of two music clubs, and I did a popular dance then called Lanbada. I think I did it well, because other music clubs approached me to be their leader. I had fun at UNIMAID, no doubt. I even emerged as Miss UNIMAID at a time. That was then anyway, because I am a born again Christian now. I can't do that again.
But we see pastors praying for members of their churches to emerge winners in various beauty contests. In fact, Pastor Ituah Ighodalo got married to former Miss Lux, Ibidun Ajayi…
Personally, I don't subscribe to beaty contests. I think it is based on my faith. Other people can think otherwise but I don't think it is ideal for girls to line up in front of judges to judge their sizes and all that. I don't pray to ever see my daughter do that.
But you went into it…
Then, I was just having fun. I didn't have this level of understanding or commitment. I thought I was just having fun. What people are quoting is the Book of Esther where they say Esther was chosen as a queen in a beauty contest, but as I said, I don't subscribe to that. Anybody is free to interpret the bible the way they like.
At what point did you become a born again Christian?
That was around 2000. But all along, I had always been a Christian.
Let me take you back again. You said you tried to come into acting but could not. Did you find out what others who were chosen were doing which you did not or could not do?
I didn't find out. It was after I came out that I started hearing such tales as sex-for-roles and all that. But for me, I stopped looking for roles because I had a certificate, yet time was going and I was not getting anywhere. I wanted to get on with my life. Another funny thing was that after I even succeeded in being cast in a role, there was no finance. So when the producer told me that it was people like me that they wanted in Nollywood, I asked him how much I would be paid and what he offered me was so ridiculous that it put me off. I enjoy acting because I am multi-talented. I can sing and I can act. What we do on Daily Guide most of the time is acting.